Batter Up: Sticky Toffee Pudding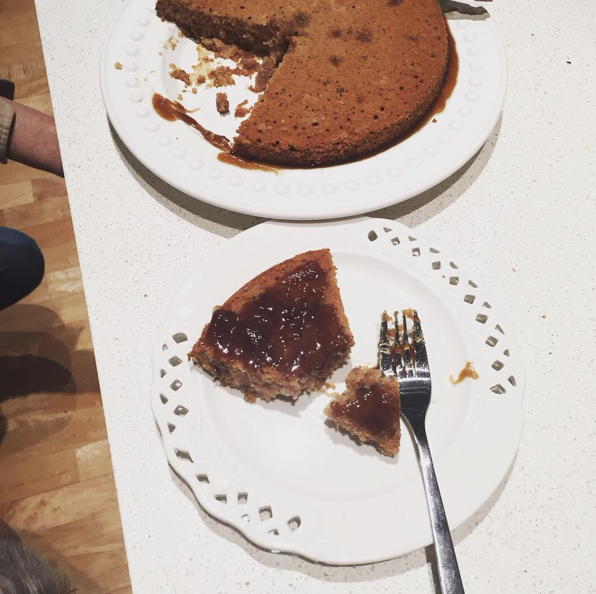 Hang on for a minute...we're trying to find some more stories you might like.
This recipe is a personal favorite, as it's a lovely surprise for my English mother and Anglophile father when I make it at the holidays. It's a few months after Christmas, but as we are having such dreary weather, it popped back onto my radar (let's be honest, I daydream about baked goods on the regular). The cake can sit for a few hours at room temperature and then it should be refrigerated. To reheat, you can use the microwave, but I prefer heating in the oven for ten minutes at 300 degrees. This works as a dessert, an afternoon treat, or even breakfast!
Ingredients:
2 sticks (1 cup) unsalted butter, softened, plus additional for greasing pan
1 cup self-rising cake flour plus additional for flouring pan
1 cup pitted dates (5 oz.), finely chopped
1 1/4 cups packed dark brown sugar
1 large egg
Directions:
First, boil dates in a 1-quart heavy saucepan with 1 cup of water covered for about 5 minutes or until dates are soft. Leave saucepan for 5 minutes to cool, with the heat off.
Next, beat 1 stick butter and 1/4 cup brown sugar with an electric mixer set at medium-high speed in a large bowl for roughly 4 minutes or until the mixture is light and fluffy. Add 1 egg and mix until combined. Mix in flour and 1/8 teaspoon salt at a low speed until the mixture is just combined. Mix dates in.
Transfer batter into a pan and bake for about 30 minutes. It will be done cooking if you are able to insert a wooden pick or skewer in the center and it comes out clean.
Meanwhile, melt the remaining stick butter over medium heat in a 2-quart saucepan, stirring in the remaining brown sugar and 1/3 cup water (also adding a pinch of salt). Simmer over medium-high heat, uncovered, mixing occasionally, until the sugar is dissolved and the sauce has reduced to roughly 1 1/4 cups. This takes about 2 to 8 minutes. Remove saucepan from heat and cover.
Then, pour the pudding in the pan to a rack and poke all over in 1-inch intervals with a chopstick. Slowly, pour half of your warm sauce evenly over the hot pudding. Let it stand for 20 minutes or until nearly all of the sauce has been absorbed.
Lastly, run a thin knife around edge of pan. Place a plate over the pudding and invert the pudding onto the plate. Drizzle the remaining warm sauce over the pudding and serve immediately.
Recipe Courtesy of Epicurious.com.