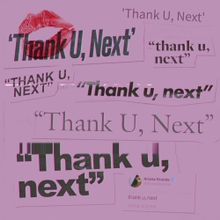 Ariana Grande's latest release "thank u, next" proves to be another extremely catchy single from the 25-year-old pop diva. The song, which was released on streaming services Nov. 3, immediately followed the end to Grande's controversial relationship with Saturday Night Live star Pete Davidson. 
The last couple of months for Grande seemed terrible, considering the end of her engagement to Davidson and the death of her ex-boyfriend, Mac Miller. However, Grande's song name drops her exes: rapper Big Sean, Ricky Alvarez, Pete Davidson, and even Mac Miller. The lyrics, "Even almost got married, and for Pete I'm so thankful. Wish I could say thank you to Malcom, 'cause he was an angel" play with the heartstrings of her audience while also displaying her strength through difficult times. The bridge of the song, "One taught me love, one taught me patience, one taught me pain" exploded on Instagram captions and creative memes across social media. The chorus, which repeats the title, is accompanied by Grande's statement, "I'm so thankful for my ex"—an easy tune for teenagers and soccer moms alike to jam out to in the car. Overall, the upbeat tempo and entertaining lyrics make for an entertaining and relatable song.
"thank u, next" succeeds as one of Grande's best hits. According to the Industry Observer, the single, "…has made Spotify history, becoming the fastest song to surpass 100 million streams."  As a fan of the artist since her 2013 debut album, "Yours Truly", Grande's music has evolved smoothly with her growing experiences and maturity. The success of her newest single shows that Grande is powerful figure in the music industry and will most likely continue into the next decade.