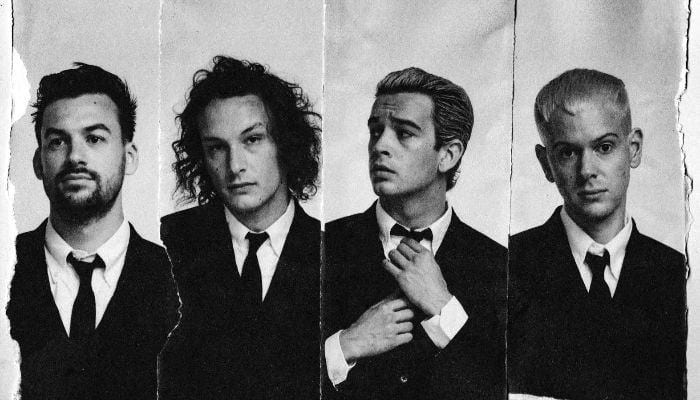 The 1975 has released another smash-hit titled "Me & You Together Song."
The single, released on streaming services Thursday, Jan. 16, has gained over 9 million streams on Spotify. The single also debuted on Thursday, Feb. 6 at no. 45 on Billboard's Top 100 Rock Airplay—the band's ninth single to make it on the competitive chart. 
"Me & You Together Song" marks a new era for the British-based band as they've seen ups and downs with their work. The 1975's highly acclaimed, I Like It When You Sleep, For You Are So Beautiful Yet So Unaware of It, was released in 2016, peaked at no. 1 on the Billboard 200 albums chart and spawned eight top 30 hits. In 2018, the band released their third album, A Brief Inquiry into Online Relationships, which peaked at no. 4 on the Billboard 200 albums chart but only spawned one top 100 hit. The album also had less commercial success in the U.S. and U.K. I've loved the 1975 for years, but their 2018 album is my least favorite. 
Following a brief hiatus in late 2018 to early 2019, the band announced their fourth album to debut in April 2020, titled Notes on a Conditional Form. They also announced their biggest tour to date, with over 60 dates in the U.S. and Europe. 
Each 1975 album has a distinct sound that evolves with current trends in Indie/Alternative Rock.  Following their less successful album, the band decided to change up their sound with "Me & You Together Song." The single reflects sounds from late 90s and early 2000s alternative rock, and opens up with guitar strums similar to Lit's 1998 single "My Own Worst Enemy." 
Lead singer Matty Healy opens the song with references to a current relationship partner. He sings, "Yeah it's you, you're the one that makes me feel right." Compared to the band's other songs about heartbreak, loneliness and addiction, this song takes on a positive tone. 
Fans (including me) speculate that "Me & You Together Song" has more upbeat sounds and lyrics due to Healy's recent sobriety. In the 2018 single "It's Not Living If It's Not with You," Healy revealed his previous struggles with heroin and opioid addiction. He revealed to GQ magazine in 2019 his process to achieve sobriety but that he had minor slips in early 2019. In the same GQ interview, Healy said "We are the best version that we've ever been." I believe that his sobriety has led to a better working and personal relationship with the rest of the band. 
Healy also hits at his sexual identity—something he has sprinkled into his work and public appearance throughout the years. He sings, "I'm sorry that I'm kinda queer/It's not as weird as it appears/It's just my body doesn't stop me." Healy normalizes queer identities in heterosexual relationships—a subject that is often thought of as taboo or fetishized in popular culture. 
Personally, the sweetest part of the song is the chorus. Healy simply repeats, "I've been in love with her for ages and ages." These lyrics are not as complex as the band's other songs, but they represent a new chapter of Healy's life and music career. 
On Feb. 6, the 1975 released their music video for "Me & You Together Song." The video, set somewhere around Y2K, followed various couples as they escape a party to have alone time. It's simple yet beautifully filmed and directed. 
"Me & You Together Song" helped revive the 1975 after a few dull months. The song has not peaked on the Billboard Top 100 chart, but it's still in its early release. As a longtime fan, I've never been more excited for a new era of the 1975. I predict that this next album will be their most successful album to date (even though their 2016 album is by far my favorite). 
Overall rating of "Me & You Together Song": 10/10.