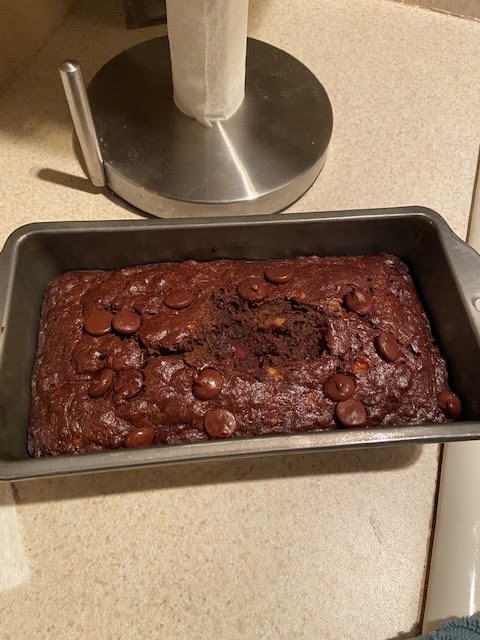 This chocolate chip banana bread is an easy, delicious recipe that is perfect as the weather begins to cool down. You can share this with your family or housemates or keep it all for yourself–that is up to you!
Ingredients:
1 cup all-purpose flour
½ cup cocoa powder
2 teaspoons baking powder
½ teaspoon sea salt
1 ½ mashed bananas (about 3 medium bananas)
1 large egg (room temperature)
¼ cup unsalted butter (melted and slightly cooled)
¼ cup canola oil
1 cup light brown sugar
1 teaspoon vanilla extract
1 cup large semisweet chocolate chips
½ cup walnuts (optional)
Instructions:
Preheat oven to 350℉.
Grease a 9-by-5-inch loaf pan with nonstick baking spray and set aside.
In a medium bowl, combine flour, cocoa powder, baking powder, and sea salt. Whisk to combine or, if you have time, it is better to sift all the ingredients. Set aside.
In a large bowl, mash the ripe bananas with a fork until no large chunks are left. Add slightly cooled melted butter, oil, vanilla and egg. Stir until fully combined.
Whisk in brown sugar until smooth.
Add dry ingredients to the wet, and gently fold in with a spatula. Careful not to overmix.
Stir in ¾ cup of the chocolate chips (and walnuts if added).
Transfer batter into prepared pan and sprinkle the remaining ¼ cup of chocolate chips on top of the bread.
Bake for 50-60 minutes, or until a toothpick inserted into the center of the bread comes out mostly clean with no raw batter on it. Check on the bread starting at the 50 minute mark, and if it still needs to bake more, check on it every 5 minutes.
Once fully baked, remove pan from oven and set on a wire cooling rack. Let the bread cool in the pan for 15 minutes. Run a knife around the edges of the bread and gently remove from the pan and place onto a wire cooling rack. Let it stand until slightly warm.
Cut into slices to serve. 
Recipe courtesy of sweetandsavorymeals.com