Artist Blends Mediums in Goodyear Gallery Exhibit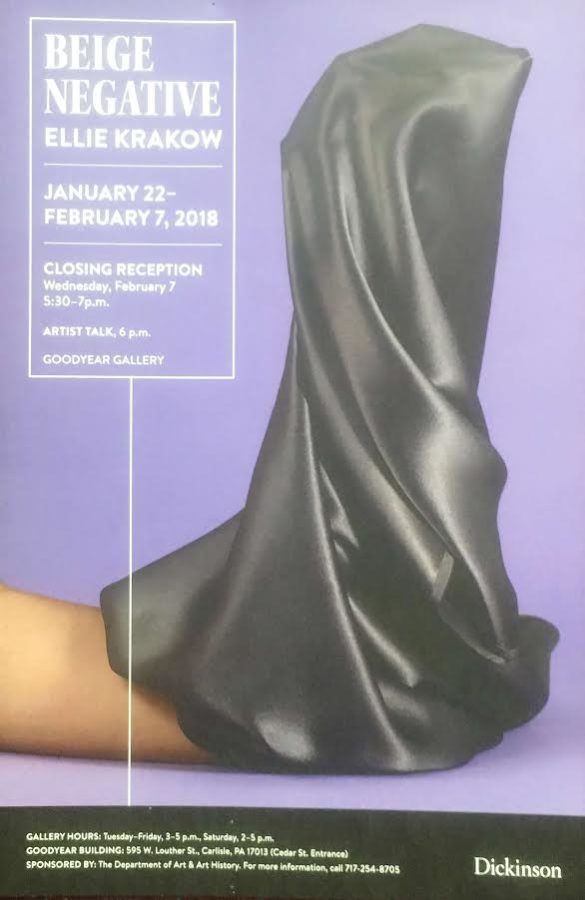 Claire Jeantheau '21, Staff Writer
February 1, 2018
A new exhibition at Dickinson's Goodyear Gallery blends artistic media, including sculpture and photography, with a collection of crafted armatures. The exhibition will be on display from now until Wednesday, Feb. 7.
According to the Merriam-Webster dictionary, armatures are metal structures onto which a sculpture is molded. The works from New York-based visual artist Ellie Krakow, titled Beige Negative, opened on Sunday, Jan. 22 to Dickinson students and the public.
Krakow's statement at the Goodyear Gallery describes her art as "circular." She explains, writing, "I start by taking photos of armatures that exist in the world; I make ceramic sculptures based on the photos I take; I pose my hands in gestures based on my sculptures, and I return full circle to make sculptures based on the photos of my arms."
The armature photos and sculptures have been positioned throughout the Goodyear Gallery, both on tables and wall displays. Each one models a distinct pose—some gripping objects, others pressing against a surface. Other images of textures are featured, displayed on the exhibit's block structures.
Krakow writes that the inspiration for this display of arms came from years where she "stared at, photographed, and researched all sorts of armatures—from posing stands used in early portrait photography to hold subjects still for long exposures to museum armatures that display ancient fragments."
The exhibit is part of an ongoing art series by Krakow, called Arm Armature, and is the third repetition of the creation process she describes. Previous Arm Armature displays have been featured at NURTUREart and the Thomas Hunter Project Space, both located in New York. Beige Negative expands on the themes of the previous Arm Armature projects through the design influence of various games. Krakow writes that the exhibit "[takes] its display inspiration from table games like ping pong and foosball, and board games like chess and checkers".
Indeed, several armatures have been placed on wooden platforms, or atop a table with symmetrical drilled dots which resemble a game board's layout.
Previous exhibitions by Krakow incorporate work across different mediums, as she does with sculpture and photography in Beige Negative. One show, Bring the Lights Into The Shot, combines blinking studio lights, a book of descriptive text titled Shine, and photographs from Krakow's series Not Still. Artists Alliance Inc. wrote that "Krakow creates lyrical meditations on affection, romance, conflict, and loss" within this exhibit.
Krakow received her B.A. in studies at both the Rhode Island School of Design and Yale University, and her Master's of Fine Arts from Hunter College. She has since been endowed with multiple honors for her work. These include a space as the resident artist of the Hunter College ceramics department, as well as artist's grants from the Boomerang Fund and Rema Hort Mann Foundation.
Outside of her museum displays, Krakow has created multiple text-based projects and photo essays which have been published in the Drain Journal of Contemporary Art and Culture and the VECTOR Artists' Journal.
Beige Negative can be viewed until Wednesday, Feb. 7, during the Goodyear Gallery's hours of 3-5 p.m. Tuesday through Friday, and 2-5 p.m. on Saturday.
A closing event will be held on Wednesday, Feb. 7, featuring a reception from 5:30-7 p.m. and an artist's talk with Krakow at 6 p.m.