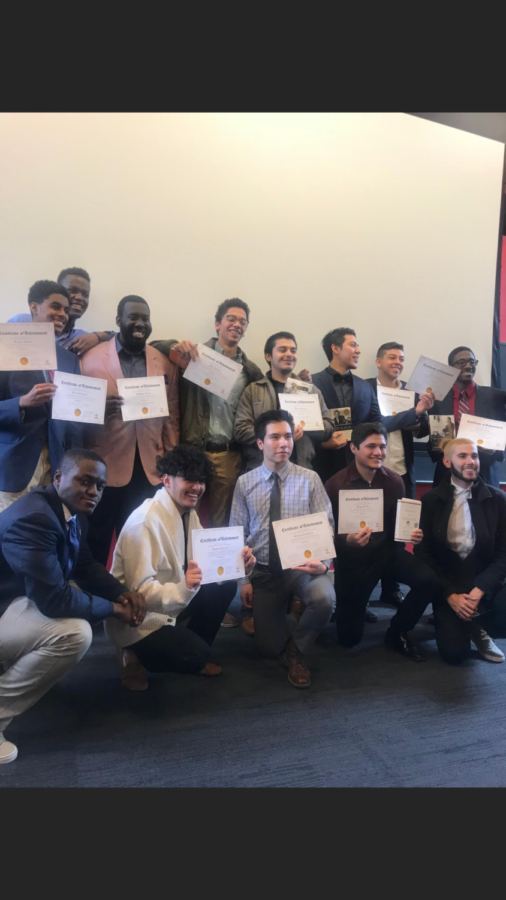 Dickinson's MANdatory program celebrated its largest graduating class this year since its founding in 2010 with 11 students.
According to Director of the Popel Shaw Center for Race & Ethnicity and co-advisor of MANdatory Vincent Stephens, MANdatory is a growing program "focused on the academic enrichment and leadership development of male-identified students-of-color."
According MANdatory student co-leader Kevin Ssonko '20, this year's class was larger "partly because this was the largest class of students of color [but] also because we had the support of the POSSE [Foundation], B[lack] S[tudent] U[nion] and Latin American [& Caribbean] club. People advertised for us…." Ssonko also added that MANdatory also participated and hosted several events both before and at the beginning of the semester to promote membership. According to MANdatory's website, previous classes varied in numbers anywhere from three to eight members.
In addition to witnessing the largest graduating class, the ceremony also had several members of the College Leadership Team in attendance, such as Neil Weissman, provost and dean of the college, Kirk Swenson, vice president for college advancement, and Karen Neely Faryniak '86, chief of staff and secretary of the college. Ssonko explained that MANdatory generally makes an effort to reach out to administration prior to the graduation ceremony because "it's really important that Dickinson takes a closer look at how students and some administrators are really putting effort forth to deal with these issues and to make spaces when, oftentimes, institutions haven't made those spaces official."
According to several attendees, the graduation was especially inspiring.
"It was really moving to see the graduating men reflecting on their experiences from the program…Clearly it was an empowering journey that has poised these 11 first-years for great success at Dickinson and in life," stated Faryniak.
Stefanie Niles, vice president for enrollment management and another attendee, also reflected on the benefits of MANdatory.
"While many of the graduates made lighthearted, joking comments about their participation in the program, it was very evident that it was meaningful to all of them and they all benefitted from their mentoring, the camaraderie and the support of the staff and student leaders and fellow participants," she explained.
Ssonko explained that the program is "about bringing our first-year men-of-color into a sense of community, introducing them to the resources on campus, and trying to help better the experience of men-of-color who, statistically, have a lower rate of success than women-of-color in their first year on campus."
When asked about the impact that this fall's Halloween incident may have had on the program, the MANdatory co-advisors and co-leaders agreed that it had changed nothing, as the issues brought up had already been a part of the MANdatory curriculum. Stephens said that social identity was already "a consistent topic of discussion and reflection [in MANdatory]… [the incident] illuminated some underlying campus climate issues many students had already observed." Cuevas added that the Halloween incident "really gave us an example of a platform to bring these issues that we talk about to Dickinson and how we can use our voice, use our abilities as men-of-color to not only talk about these issues, but to actually bring change and awareness to campus."
2018 MANdatory graduate Sayahn Mudd '21 said that being a part of the program is "a privilege and an honor to work with men-of-color who are so dedicated to making change on this campus and being a light to others, whether they be other men-of-color or just the people of Dickinson, in general."
Stephens emphasized how MANdatory graduates "consistently rank among the college's most distinguished leaders," naming Jahmel Martin '16, Joojo Ocran '17, John Adeniran '19 and Ssonko as "MANdatory men who have received the Shuman Prize award[ed] to an outstanding first-year male student, proof of the students' campus-wide impact."
Addressing the future members of MANdatory and the difficulties that men-of-color may have navigating Dickinson's campus, Cuevas concluded that "it's very important for the next upcoming class to understand the space that MANdatory can provide for them and the space that they can want and create for themselves."
In the fall of 2017, faculty and staff led presentations on academic excellence in the liberal arts, health and wellness, study abroad and community service and engagement for the members of MANdatory. The program also incorporated additional social and community activities, such as participating in the Hunger Banquet, viewing the 2018 film Blank Panther as a group and attending the Carlisle Black History Festival.
This year's graduation took place on Saturday, March 3.