Vigil Honors Victims of Pittsburg Synagogue Shooting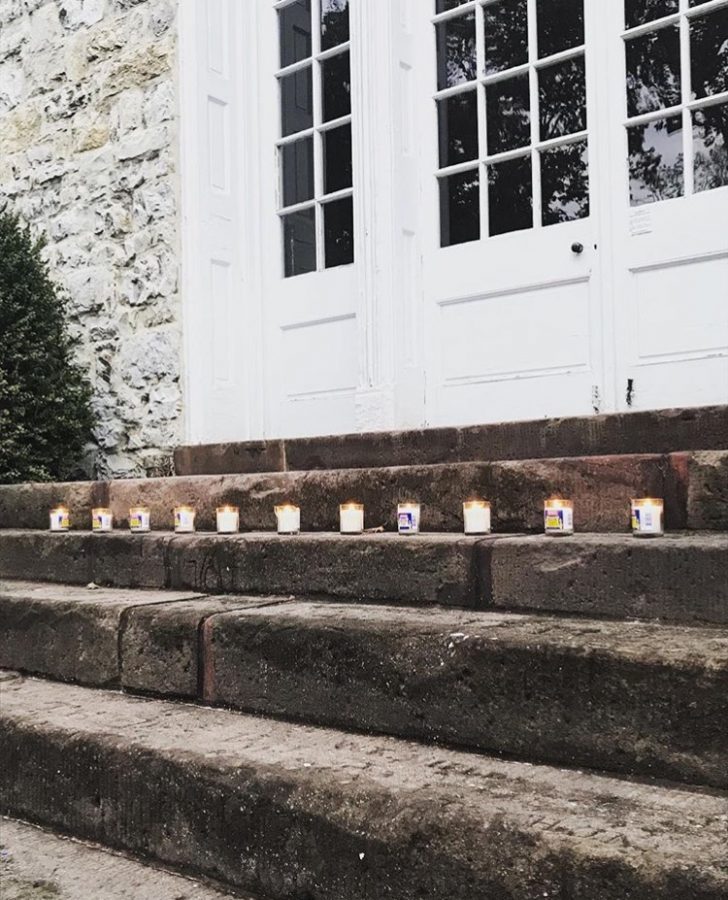 Rebecca Agababian '21, News Editor
November 1, 2018
Students and faculty gathered for an interfaith vigil hosted by the Milton B. Asbell Center for Jewish Life on Sunday evening to honor the 11 victims of a shooting at the Tree of Life synagogue in Pittsburgh, Penn. on Saturday morning. 
According to CNN, Robert Bowers surrendered to authorities on Saturday, Oct. 27 after opening fire on the synagogue while shouting anti-Semitic statements. According to CBS Pittsburgh (KDKA), Bowers was reportedly armed with an AR-15 and three handguns.
"Many members of our Dickinson community are grieving right now. Including me," said Solomon Zisser '20, office assistant at Asbell Center for Jewish Life. "Community is very important to the success of Judaism."
In an email sent to the Dickinson community on Monday, Oct. 29, Dickinson President Margee Ensign addressed the Pittsburgh shooting and another Oct. 24 shooting in a Kentucky grocery store that resulted in the deaths of two African-American individuals, an act currently being investigated as a hate crime. "In such dark times, we must rededicate ourselves to building a more civil society—one that honors difference and fosters mutual respect," stated Ensign.
According to Carolyn Goode '18, the Asbell Center's engagement 
associate, about 100 people attended Sunday's vigil, including students, faculty and members of the local community. "We were incredibly happy with the turnout," she said.
The Anti-Defamation League, an international Jewish non-governmental organization, released a statement on the day of the shooting, calling it the "deadliest attack on the Jewish community in the history of the United States."
According to the Pittsburgh Post-Gazette, "Pittsburgh police filed 11 counts of criminal homicide against Mr. Bowers, along with six counts of attempted homicide; six counts of aggravated assault and 13 counts of ethnic intimidation" on Saturday afternoon.
"I have seen quite a few Dickinsonians, including myself, troubled by what happened in Pittsburgh," said Sam Halpern '22. "For me, and I think for a lot of other Jewish students as well, when something like this happens, the thought goes through your mind, 'This could've been my community.'"
The first funeral services were held for victims Cecil and David Rosenthal on Tuesday, Oct. 30. The victims vary in age from 54 to 97.
The vigil was held on the steps of Old West and included "singing, saying prayers and readings, giving those who needed to the space to say what was on their minds, and lighting candles, including 11 yahrzeit candles for each of the victims in Pittsburgh," said Goode.
The Asbell Center and Dickinson College Hillel will be holding Shabbat services and encourage those of all faiths to use the hashtag "#ShabbatSolidarity" as part of the American Jewish Committee's campaign to send "a clear message that when hate raises its ugly head anywhere in our country, we will rise to confront it with solidarity and determination," according to the organization's website. The center is collecting donations for HIAS, a non-profit organization that aids immigrants and refugees.
"Whether you are the most religious person, or don't believe in God at all, whether you are Christian, or Jewish, or Muslim, we would love for you to attend our services this week to take a stand and show the world that hate will not win," said Zisser.
Shabbat services will be held on Friday, Nov. 2 at 6 p.m. in the Asbell Center.
An earlier version of this article used the hashtag "show up for Shabbat." The American Jewish Committee has since changed this to "Shabbat Solidarity" since print time on Tuesday, Oct. 30. This version of the article reflects that change.