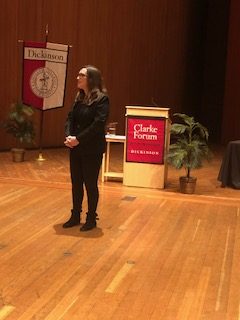 Human Rights Campaign Press Secretary and Trans Activist Sarah McBride presented her talk "Love, Loss and the Fight for Trans Equality" regarding her personal life and work in LGBTQ activism and said, "Every single time they come for us, we grow stronger."
McBride related the coming out experience of non-transgender people to transgender people to the challenges for trans rights because "people who aren't trans don't have an analogues experience of having a different gender identity than their assigned sex." McBride stressed that every transgender person has a different experience coming out and said, "my path hood to womanhood is unique."
She described her coming out, which was made public after she wrote an editorial article for her college's newspaper that garnered massive appraisal by the student body. McBride, who was the student body president of American University, said the school gave "messages of love, support and celebration." Additionally, McBride discussed her marriage to her husband Andy, a transgender man, who passed away from cancer four days after their wedding where she said he "taught me how to love and be loved."
Apart from her coming out experience, McBride discussed her work in LGBTQ activism where she interned for the Obama Administration as the first openly transgender woman to work in the White House. Additionally, she advocated for the Gender Identity Non-Discrimination Act of 2013 in her home state of Delaware.
Students, faculty and community members attended McBride's talk and had positive remarks. 
Frances Youmans '19 described the talk as "incredible, inspiring and informative." She said that she is "going to call Pat Toomey" in response to McBride's push for people to call Pennsylvania state legislatures to pass non-discriminatory bills that protect LGBTQ individuals. Hannah Youmans '22 said the talk was really inspiring and it "made me want to go out and change the world."
Others valued McBride's points during her presentation. Ellie Cosby '19 said McBride's talk was "powerful, inspiring, hopeful" and it made her feel "very optimistic for the future." Cosby, who bought McBride's book titled "Tomorrow Will Be Different" said she "looks forward to sharing her story and her book with other people." Alaina Einsig '19 said "I cried twice" from McBride's powerful story. 
Attendees highlighted the relevance of McBride's talk to the Dickinson LGBTQ community. JB Parker Blier '21 said the presence of out LGBTQ people on campus has increased and that, "It's really important for those who aren't out or those who are experiencing internal or personal violence to have those voices and have these people to talk about why this stuff is important."
Amy McKieran, assistant professor of philosophy, said the room felt "empowering" and that she "appreciated knowing that so many members of our community care and want to know what to do next in the future."
McBride said coming to college campus and speaking to students is important in her work as an activist because "young people are on the frontlines of change; young people are the ones pushing forward the most significant evolution of hearts, minds and laws." She said that she feels young people have a "unique gravity" to their voices and she wants to make sure that she's "working in solidarity with young people."
"Love, Loss, and the Fight for Trans Equality" was hosted by the Clarke Forum on Tuesday, Mar. 5 in ATS. The event was co-sponsored by the Office of LGBTQ Services, the Women's & Gender Resource Center, the Department of Women's, Gender & Sexuality Studies, the Churchill Fund, the Office of Institutional Effectiveness and Inclusivity and Outlaw at PSU-Dickinson School of Law, according to the Clarke Forum website.