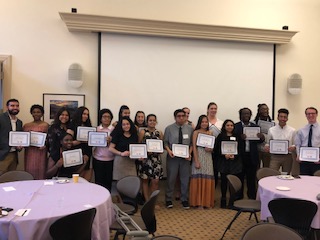 A new student-leadership program held its first graduation ceremony for those students who completed training. 
The A.C.E (Academic and Co-curricular Excellence) Peer Mentor program is a "new engagement, development and support program for select first year students who will be paired with an upper-class mentor," according to the Dickinson College website. Students in the program were trained to become mentors to a few first-year students in the 2019-20 academic year and will be paid for their work, according to the website.
The program was proposed by Vincent L. Stephens, Director of the Popel Shaw Center, to Dean of Student Life George Stroud to "attract and retain historically underrepresented students, many of whom struggle to transition to Dickinson and to Carlisle," according to Stephens via email. Students accepted into the program were selected from a "highly competitive pool of over 50 students" and participated in a six-week seminar with topics on "cultural proficiency, student development, referral techniques and mentoring ethics," Stephens said. 
20 students in the first-year to junior classes graduated from the program on Monday, April 8 in the Stern Center. Along with the graduates, faculty and staff were in attendance, including those who recommended each graduate from the program, Stephens said. The ceremony featured opening remarks from Stephens, speeches from several of the graduates and ended with a presentation of certificates to all of the new mentors. 
Cristian Tineo '22 volunteered to speak at the ceremony because it allowed him to "reflect a lot on myself as a student." Tineo added that he wanted to "express how significant this experience means to me," he said. Tineo explained that he chose to be a mentor because of the help that he could have benefited from this semester, and he said in his speech, "It's one thing to say you'll be aware that help is always there, but another thing to actually reach out for it when you need it."
Students reflected on their six-weeks of required training and their experiences. Leslie Alas '22 said her involvement in the program helped to broaden her "knowledge on what mentorship looks like." Alas explained that A.C.E. Peer Mentors is important for Dickinson because it "provides support for incoming students from underrepresented groups to feel welcomed and aware of the resources they have on campus." 
Julia Chandler '22 said her experience in the program has been "enlightening, welcoming and inclusive." Chandler hopes that some struggles that her and her fellow first-year peers experienced during their first semesters might "be spared from the incoming first years thanks to this program." 
Some graduates will mentor incoming international students in the fall. Simran Dali '22, an international student from Nepal, said the peer mentor program "could have definitely helped me develop my sense of self on campus more easily." Dali wants to use both her experiences as an international student and a peer mentor to "make their [international students] transition into college a little bit easier by just being there as part of a support system." Dali explained that training was "very time intensive" but she is "genuinely excited for next year to meet all of our mentees."