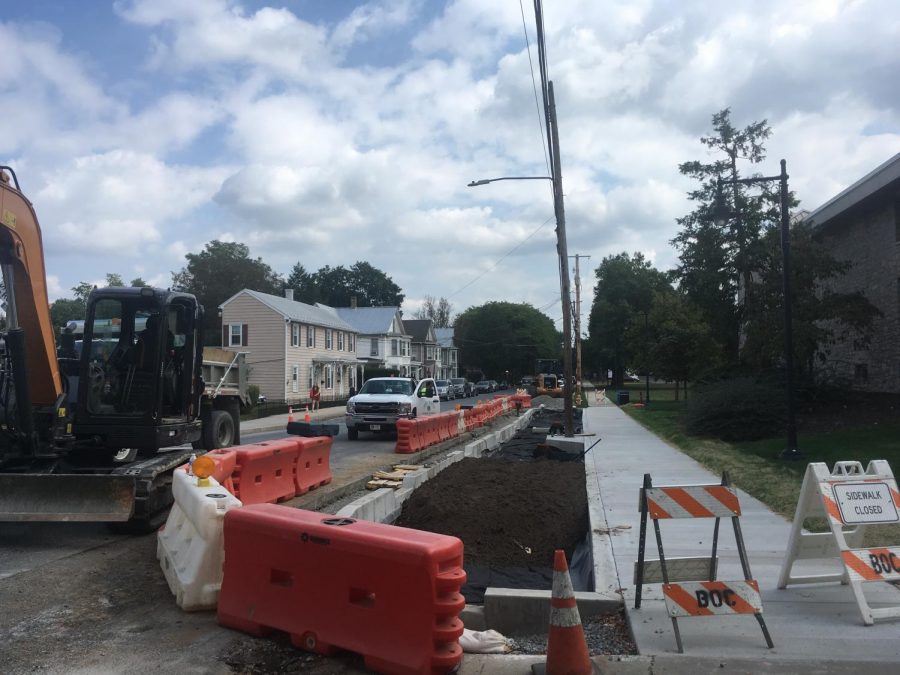 Numerous complaints submitted by student residents of the 500 block of West Louther Street has led to the discovery of tree roots growing inside the sewer pipes beneath the homes. This has resulted in several students being moved to other residential spaces while the pipes are repaired.
According to emails sent out to members of the Arts Collective house on Sept. 3 by Amanda George, director of resident life and housing, water to the house was shut off due to "sewer issues," causing for the residents to have "arrangements… to stay in temporary locations while [the borough and Facilities Management] work to resolve the issue."
At the time George advised students to "focus on taking what (they) need for one day," but it is likely that they "may have to stay in the temporary location for more than one day," she said.
In a follow-up email to residents of the arts collective house on September 4, George said the cause of the problem with plumbing was because of "tree roots growing in the sewer pipes."
Associate Vice President of Sustainability and Facilities Planning Ken Shultes confirmed the issue and said the sewer lines on the 500 block need to be replaced. "This involves digging up the current pipe and replacing with a new one and that takes 1-2 days for each house," he said.
Shultes also said that several of the houses were "damaged" by the "backup associated with the clogged lines." Facilities is currently working on cleaning and repairing the homes affected.
Affected campus houses also includes the Latinx House. However, similar plumbing issues experienced by residents at the Reed Cherry Apartments was mainly due to "paper towels in the plumbing lines and was much easier to address," according to Shultes.
Sabrina Frost '21, who lived in the Reed Cherry Apartments, was relocated to Cooper hall.  Although Frost is frustrated about the situation she said that the maintenance staff has been "wonderful." "They were in our apartment right away trying to figure out the problem and they are working to fix it as quickly as possible," she said.
Bethany Petrunak '22, a resident of the arts collective house said she was "really shocked" when she received news about the sewage issue.  "When they tell you there is a sewer problem, the last thing you would think is that there are tree roots growing in the sewer pipes," Petrunak said.
According to Kyle Lee '22, the arts collective house was moved to the High Street residence. "I was really surprised and worried because it had only been a few days (since) settling into the Arts Collective House," Lee said.
George said in her second email to residents of the arts collective house that they would "continue to have access to the house," but with the water shut off in the building, students "would not be able to sleep/live there."
The current sewage problem at hand will take approximately "a week or two to resolve", according to George.
"We thank the students for their cooperation and understanding, and Student Life for communicating and relocating students," Shultes says. "We don't want students to move in to experience the same problem down the road, and so we need to make comprehensive repairs now prior to reoccupancy, and unfortunately this takes more time."