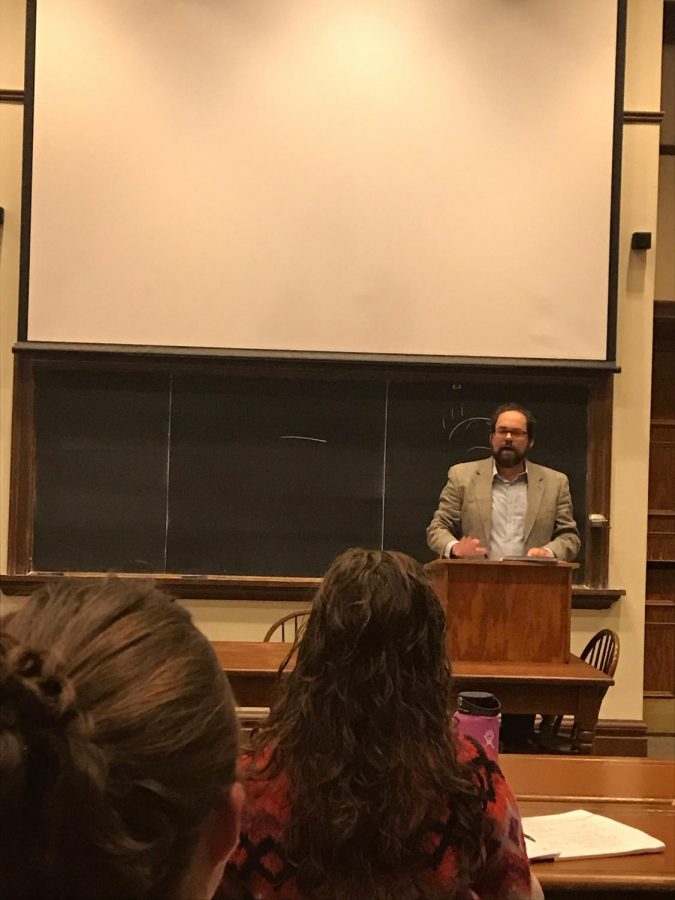 Professor Kerry Mitchell, the author of Spirituality and the State: Managing Nature and Experience in America's National Parks and the director of the Living-Learning Center of the Hamilton Lugar School of Global and International Studies at Indiana University Bloomington, according to the Dickinson College website, hosted a lecture about spirituality and its place in nature, specifically in state and national parks.
"(My interests) grew out of a very simple existential model orientation, and I wanted to know what was going on around me," Mitchell explained, "I want to understand what's going on around here, and it has always been a part of my orientation. How does it actually come down to the ground with the experiences people are having at different places and times?"
When Mitchell visited the Joshua Tree National Park, "a man invited me to his campfire and asked what I studied. I said religious studies. He turned to the desert and said to me, 'This is my church,'" Mitchell said. He explained that this experience lead to his research on how people use their religious spiritual language to talk about their experience visiting national parks.
"These national parks are state spaces and they are also states of power, and there is this tension between individual freedom and interaction with nature," Mitchell explained, "I'm trying to get a handle on what is the relationship between spirituality on the one hand and the state on the other."
Part of Mitchell's lecture dealt with power and management, which he argues in his book that there is a "specific management strategy for managing experience in the parks." Mitchell explained that there are four parts that shape the experience of visitors at the national parks, including maintenance of bodily discipline, invoking the natural sublime, implication of global interconnectedness and the facilitation of individual differentiation.
"What is the maximum number of visitors you can have while maintaining a sense of privacy?" Mitchell asks. "If you spread the bodies out in a certain way, you can have them alone to have that experience without the interference of others," Mitchell said.
Mitchell explains that in the Yosemite National Park, the sequoia trees have a kind of dampening effect that causes people to whisper although it is already extremely quiet in the area. Mitchell said that the rangers have a thing called the "Wow" experience. In Yosemite National Park, a tunnel suddenly opens up and visitors pull up onto this vista point. It's designed so it can "give you a frame of the view while having humans out of your peripheral." Mitchell showed a short video featuring Yosemite Park, which included absolutely no people, only the nature of the park.
The second part of the lecture discussed spirituality itself and the ways in which spirituality has been apparent for people in nature. "When you actually talk to people about how they have these experiences, it's very fluid," she said and continued that, "Categorizing one's spiritual experience is not exclusive." Two of the major characteristics in people's experiences in parks are perspective, including self-reflection and critiques on civilization, and perception, including differences in a sense of speed one experiences from moving in a car to moving in a forest setting, Mitchell explained.
Overall, spirituality, according to Mitchell, is "going on outside communities so they are connecting to these events that are intensely being managed by the state."
Lauren Herman'23 said that the lecture was "really educational and displayed an aspect of the environment I never looked into before."
"It's cool because it gives a secularized perspective of nature," Cassandra DiPierro '23 said.