Controversy at Franklin & Marshall Prompts Comparison to Past Dickinson Incidents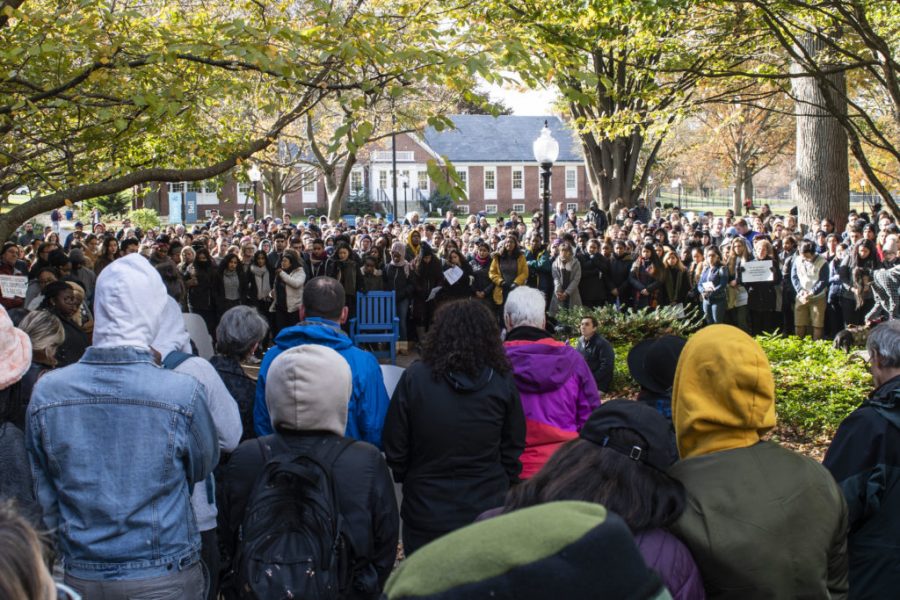 Drew Kaplan '20 and Jacob DeCarli '22
November 14, 2019
Controversy emerged at Franklin & Marshall College (F&M) after photos circulated of male student athletes wearing costumes evocative of racial stereotypes at parties the weekend following Halloween. Comparisons have been raised by Dickinson College students to several past incidents at the college which they feel are similar.
According to The College Reporter, the F&M student newspaper, several photos emerged from the weekend that depicted "two soccer players [who] wore stereotypical mustaches and Mexican apparel" as part of their 'Jose Cuervo' costumes, meant to represent the Mexican Jose Cuervo tequila company. Another photograph depicted "basketball players dressed in stereotypical Mexican clothing and as an Asian 'rice paddy farmer' with soy sauce hanging from his neck." Another photo of the student dressed as the Asian farmer showed an occasion where he "pulled his eyes into a mocking pose." A fourth photograph depicted "a soccer player in traditional African clothing known as a Dashiki." All of these photos were originally posted to students' social media platforms, before becoming widely distributed amongst the student body.
The photos prompted strong backlash from the F&M community. There have been calls for the students in the photographs to be temporarily suspended from their associated sports teams, and for them to attend "mandatory workshops on racism," according to Kristen Clair '20 of F&M. Clair explained that the names of the students were posted on the 'Protest Tree,' a large tree on campus known for social gatherings, and that student staged walkouts from classes in protest.  The College Reporter described that students were unsatisfied with the response to the incident by F&M administration. In an email to the F&M community, President Barbara Altmann said that she is committed to generating action to better represent the student body. "I have heard your frustration and impatience for change" Altmann added, "I firmly believe that the energy of this week will help to launch us to a better place." The email also detailed the decision of administration to remove the names from the protest tree. Removing items posted on the tree goes against a longstanding unofficial college custom, according to The College Reporter. 
On Friday, Nov. 8, a rally was held by F&M students regarding the issue and that same night, students held a protest at the college's home basketball game against York College. According to a Nov. 9 report by the York Daily Record, the game was canceled due to the protests. On Tuesday, Nov. 12, administration held a town hall meeting attended by several members of F&M administration, at which Altmann described the inadequacy of "quick fixes" and "band aids" when addressing these issues. The town hall was held in response to an opinion article published by The College Reporter written by Sandra Sanchez '20 and Marcy Pajares Berger '21, and written to reflect the concerns of the community at large. The opinion article condemned the Halloween costumes as well as the racial slur etched into the door of the Asian student as unreflective of the beliefs of the college as a whole, and urged the administration and Board of Trustees "to act in proportionate response to issues," noting that many minority students on campus "feel unsafe due to the aforementioned incidents of racial bias."
F&M has had similar incidents in past years. The College Reporter noted that 2015, members of the Phi Kappa Tau fraternity on campus were sanctioned for "culturally offensive" costumes worn for Halloween, while other students were sanctioned for a separate incident in the same year for costumes depicting "stereotypical 'Arabs.'" Racial slurs were also etched into the door of an Asian-American student's residence earlier this year. 
These incidents at F&M have parallels to past incidents on Dickinson College's campus. The article "Photos Draw Anger, Apology" published by The Dickinsonian on Sept. 15, 2015 discussed an incident in a student's apartment who hosted an "around the world" party. Photographs of two white students at the party showed them dressed in costumes perceived by many students as racist. The incident motivated students to host a discussion in the Social Justice House, and the student who posted the original photos of the costumes apologized for his action. Two years later, The Dickinsonian published another article "Costumes Incites Controversy, Photo of Student's Halloween Costume Prompts Backlash," and discussed a student that dressed as NFL player Colin Kaepernick that many students believed to allegedly be black face. The claim of black face could not be confirmed, but the incident created backlash from students, parents and alumni.
The Bias Education and Response Team (BERT) investigated both incidents. Under the Office of Institutional Effectiveness & Inclusivity, the college provides various resources such as BERT and the Office of Equity and Inclusivity for student access.
In a letter sent to the College Reporter, the students/writers demanded for F&M's office of Multicultural Affairs to be terminated and instead expanded into a "Diversity, Equity and Inclusivity Office" headed by a person of color and staffed with more people of color. 
Current Dickinson College students reacted to the incident at F&M and compared it to previous incidents on campus. Avani Kurup '22 said that she has not seen incidents like these on campus but that she heard upperclassmen discuss the two incidents of years past. "It's so frustrating that people think that they can appropriate certain cultures and think that it is not a big deal," Kurup said. Mia Romano '22 connected the Halloween costumes incident from 2017 on campus to F&M's current Halloween incident. "If we didn't have a scandal two years ago concerning cultural appropriation, it could have been Dickinson this year," said Romano. She also said that many people on campus ignore the Halloween costume flow chart distributed by the Popel Shaw Center. 
Fabian Cabrera '21, president of the college's Latin American & Caribbean Club (LACC), spoke on behalf of the club about the situation at F&M and how that translates to the campus. Cabrera explained that himself and members of the club do not feel safe on campus or feel that there is not enough support by the administration. "We think their problems affect us because we share a very personal relationship with many clubs from F&M," said Cabrera. 
Quenelle McKim '22 reflected on the outpouring support to students affected by this incident at F&M. "I am glad that there is support from many multicultural and diverse organizations and groups, as well as students, to bring awareness to this situation because it's not okay," she said. However, Bishma Tuladhar '22 explained that there should be more resources on F&M's campus to provide more support for students of color and other marginalized students. "I feel like that the school must invest on resources to educate people," she said. 
Cabrera and the LACC wanted to share advice for students of color at F&M to protest and pressure the administration to enact change. "Don't just let time heal the situation," said Cabrera "keep the situation as a topic for as long as it needs to be. Change only happens when people continue to fight for what they believe."