Women's Track Wins DuCharme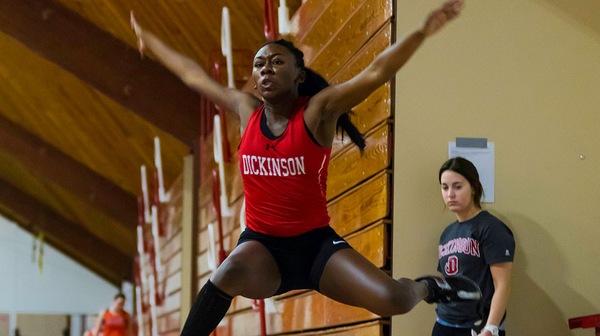 Hang on for a minute...we're trying to find some more stories you might like.
The Dickinson women's track & field team took home a first-place overall finish at the DuCharme Invitational on Saturday, February 11 at the Kline Center.
The Red Devils had a great start to the event, winning the 4×1600 relay in 21:39.90, a new school record. Sofia Canning '18 ran the lead leg and added a second-place finish in the mile with a time of 5:23.06 while Adriana Frayne-Reixa '17 ran the anchor leg and added a silver in the 3,000-mete race, crossing the line in 10:57.84.
Hannah Gore '18 and Kelsey Horowitz '18 ran the middle legs of the record-breaking relay.
Aphnie Germain '17 and Naji Thompson '19 earned wins with the 4×200 and 4×400 relay events, respectively. Thompson finished second in the 55 meters with a time of 7.45 while Germain placed fourth in the 55, crossing the line in 7.52.
Natalie Suess '20 joined in the 4×200 relay as they clocked a time of 1:48.66 and came in second in the triple jump with a distance of 10.75 meters. Nicole Fondots '20 participated in the 4×200, running the anchor leg.
The Red Devils also put on a good showing in the field events as Rikka Olson '17 won the pole vault with a height of 3.55 meters while Amanda Jimcosky '17 cleared 1.55 meters to win the high jump and Imani Beard '17 claimed second in the long jump (5.04 meters).
Polly Terzian '17 was fourth in the 5,000 (20:05.46) and Maura Reilly '19 earned a fourth-place finish in the 3,000 meters (11:00.13).
The Red Devils travel to the Susquehanna Invitational next Saturday, February 18, with a start time of 9:00 a.m.