Women's Squash Tops Bowdoin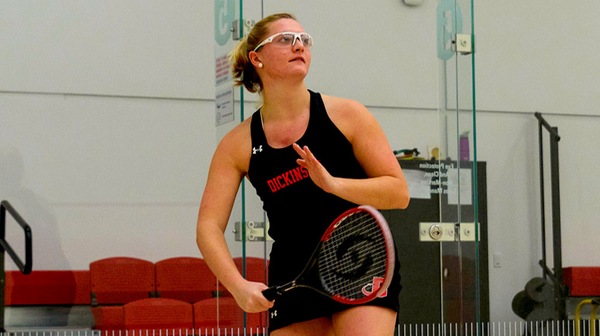 Hang on for a minute...we're trying to find some more stories you might like.
The No. 20-ranked Dickinson women's squash team closed out the College Squash Association Team Championships on a high note, holding off No. 19-ranked Bowdoin College, 5-4, on Sunday morning, February 26, at Princeton University after dropping their first two matches of the tournament to Wesleyan and Tufts, respectively.
The Red Devils jumped out to a 4-1 lead after the first five sets and held off a rally from Bowdoin to finish the season at 9-12 overall.
Domenica Romo '19 played a strong match, enduring through a five-set marathon at in the second flight (7-11, 11-8, 3-11, 11-9, 14-12).
Abby Wingerd '19 made a comeback to win the sixth flight. After trailing 2-0, she won the third set, 14-12, and went on to claim the match with scores of (11-4, 11-7) in the fourth and fifth sets.
Sarah Murphy '19 and Merritt Davis '17 both earned 3-1 wins in the seventh and eight flights, respectively.
Nicole DeLuca '19 played a hard-fought match in the third but suffered a 3-2 loss (10-12, 7-11, 11-8, 11-1, 11-9).
The Red Devils took the ninth flight by default with senior Patricia Francis-Hall '17 earning the point for the win.
The Red Devils travel to Dartmouth College next weekend for the CSA Individual Championships on March 3-5. The men will compete in the tournament as well.