Softball Splits First Two Games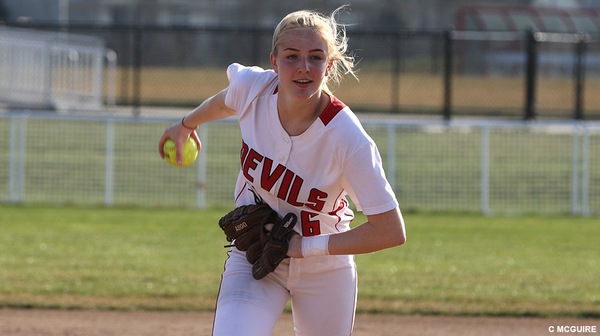 Hang on for a minute...we're trying to find some more stories you might like.
The Dickinson softball team started off the 2017 season by splitting a double-header at the University of Mary Washington on Saturday afternoon, March 4. After dropping the opener 8-0, they came back to claim game two by a score of 5-3.
The Eagles had a strong start in game one, scoring 4 runs in the first two innings for an early 4-0 lead. The hosts scored another lone run in the fourth. She recorded her fourth hit of the game in the fifth as the Eagles capitalized on a pair of errors to push across three runs for the final of 8-0.
Dickinson regrouped and captured the nightcap, taking the second game 5-3 to force the split. Nicole Torlincasi '17 hit a single, stole a base and scored on an RBI from Jessica Epstein '18 to put the Red Devils on the board in the third inning.
Alissa Lema '20 led-off the fifth inning with a triple and later crossed home plate to put the Dickinson up, 2-0.
Epstein singled and scored on an RBI double from Nicole Clayton '18 before classmate Alicia Lane '18 hit a two-run double to stretch the lead to 5-0.
The Eagles used an error and three base-hits to close the gap in the bottom half of the inning, scoring three runs. The Red Devils closed the door and held on for a 5-3 win to open the season, 1-1.
Lane went 2-for-2 with two RBIs to lead the way. Killian Kueny '19 earned the win on the mound with a complete game effort, allowing only five hits and recording three strikeouts.
The Red Devils are on the road for spring break as they are scheduled to face Minnesota-Crookston and Wisconsin-Platteville next Sunday at 2:00 pm and 6:30 pm, respectively, in Tuscon, Arizona. The will return home on March 20 for their first home double-header of the season against Elizabethtown College.