Track & Field Stays Strong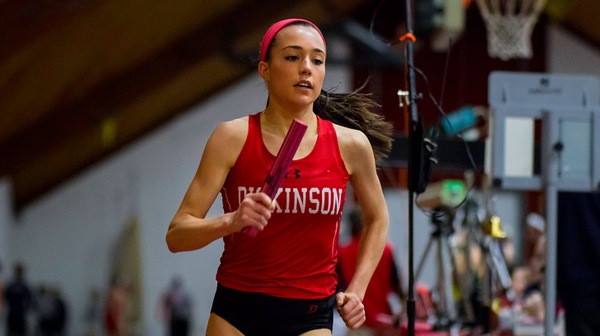 Hang on for a minute...we're trying to find some more stories you might like.
The Dickinson men's and women's outdoor track & field teams had some strong performances at the Bucknell Distance Carnival on Friday night, April 14. The Red Devils had a solid showing against competition from across all three NCAA divisions.
Sofia Canning '18 led the Red Devil women, finishing sixth overall, behind all Division I runners, clocking a 35:48.26, the second-best time in program history, in the 10,000 meter invitational race.
Sarah House '20 posted a program-best time for a first-year in the 5,000 meter competition, finishing in 17:10.58. Kelsey Horowitz '18 and Lucile Ionescu '19 both clocked their best times of the season in the 5,000-meters as well.
Hannah Gore '18 was second in the open 1500 meters, clocking a time of 4:41.24 to earn the ninth spot on the program's all-time list. Tessa Cassidy '20 finished the 5000 in 17:50.48 to place 11th overall.
Jamie George '17 ran her first-ever 1500 and placed third in her section, crossing the line in 4:49.60.
Amanda Jimcosky '17 cleared a height of 1.60 meters (5'-3") in the high jump to tie for sixth place.
Mason Hepner '17 posted a 3:48.49 in the 1500, the second-fastest time in school history, and ranks second in the nation in Division III. Eli Laue '17 wasn't far behind, finishing the 1500 in a career-best time of 4:04.41.
Eric Herrmann '19 ran to a third-place finish in the mile to lead the men's team with a time of 3:56.55, ranking sixth all-time on the program list. First-year Bryce Descavish '20 was third in the 5,000, clocking a time of 14:53.33.
The Red Devils will be back in action at the Larry Ellis Invitational at Princeton University in Princeton, New Jersey on Friday, April 21.