Baseball Splits Doubleheader with Haverford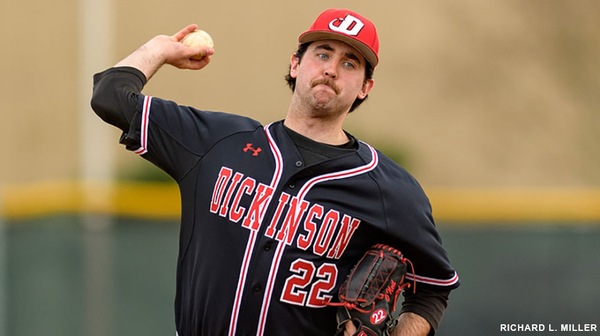 Hang on for a minute...we're trying to find some more stories you might like.
The Dickinson baseball team kept their playoff hopes alive by splitting a double-header at Haverford College on Sunday, April 23. The 'Fords claimed the opener, 13-0, but Dickinson regrouped to win the nightcap, 8-3.
The 'Fords put up 15 hits in game one as they brought two runs across in the first inning and added another on a solo homerun by Spencer Sohmer in the third.
Sohmer drove in two runs in the fourth as Haverford stretched the lead to 8-0. They closed out the game with another big inning in the bottom of the eighth to bring their final tally to 13.
Max Matilsky '20 led the Red Devils at bat, going 3-for-4.
The Red Devils found some more offense in game two, forcing the split with an 8-3 victory.
Jonathan Chudacoff '18 singled to bring in two runs as Dickinson scored four unearned runs in the third inning to take a 4-0 lead. Jake Band '17 added an RBI single.
Three straight walks to start the fourth led to three more Dickinson runs as Rick Hopkins '17 and Stephen Sakowicz '19 tallied RBIs.
Sumners drew his third walk of the game and scored for the second time thanks to back-to-back singles from Matilsky and Thompson to stretch the lead to 8-0.
Haverford scored all three of its runs in the sixth via a two-run homer and a double.
Billy O'Neil '18 earned the win on the mound, pitching five innings, allowing five hits and two runs while recording three strikeouts. He moves into second on the program's single season wins list, improving to 8-1 on the season.
Classmates Alex Gusikoff '18 and Reid Collins '18 went for a combined three innings with three total strikeouts to earn the save. Collins eclipsed his own school record from 2016 with his fifth save of the season and raised his career record to eight.
The Red Devils improve to 20-16 overall and 7-7 in the Centennial Conference. They return to action on Saturday, April 29, hosting Johns Hopkins for a doubleheader on Senior Day, with the first pitch scheduled for 12:30 p.m.