Men's Lacrosse Looks to Playoffs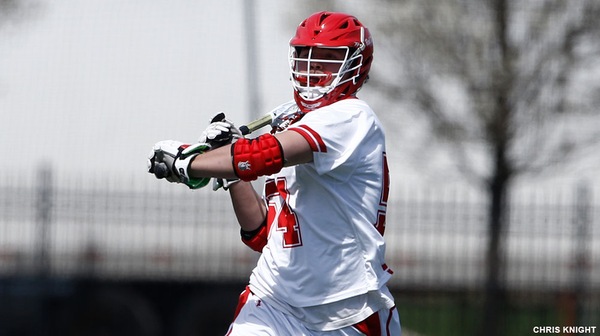 Hang on for a minute...we're trying to find some more stories you might like.
The Dickinson men's lacrosse team secured a Centennial Conference playoff berth after a resounding 17-3 win against Muhlenberg College. The Red Devils scored two goals in the first 32 seconds of the game and played with aggression and hustle for the entire contest.
They led 6-1 at the end of the first quarter and went into halftime with a 10-1 lead. The Red Devils out-ground-balled the Mules 51-26. A relentless effort in the ground ball battle allowed Dickinson to control the pace of the game. Ten different players scored for the Red Devils and this unselfish play was a key factor in the team's success.
Patrick Finneran '19 said, "I think the team played one of our best overall games of the season, we shared the ball on offense with over ten people scoring and we communicated well on defense. We have some solid momentum heading into the two biggest games of the season with major playoff implications."
The team's attention and effort is completely focused on Wednesday's matchup against Franklin & Marshall. The Red Devils have been preparing with the intensity needed to defeat F&M and improve its standing for the Centennial Conference tournament. Senior captain Brendan Wagner '17 spoke on the mentality needed for daily improvement: "Given the circumstances of our season until this point we are quite excited to play Franklin & Marshall but are really focused on 'winning the day,' which will lead to our success. We approach every practice, meeting, and game with the same attitude. We do everything we can to win the day and believe that our preparation will come together on game day no matter the opponent."
The squad believes this focus on daily improvement will result in success against Franklin & Marshall as well as in the playoffs. Franklin & Marshall comes into the game holding a 11-2 record and is ranked No. 15 in the country. The matchup will feature two talented teams but Coach Dave Webster is confident that the team's talent as well as its relentless effort will bode well for the Devils. Chris Jones '17 spoke on the importance of Wednesday's game for the team. Jones said, "F&M has always been a special game for us. We are looking forward to playing another top-20 team and more importantly playing for an important Centennial Conference win." The Red Devils are looking forward to going to battle against Franklin & Marshall on Wednesday at 7 p.m. in a game that will be pivotal for the team's success.
If Dickinson wins against Franklin & Marshall as well as Ursinus, they will take sole possession of the No. 1 seed in the Centennial Conference playoffs as well as home field advantage for the duration of the tournament. Although a playoff berth and Centennial title is something the Red Devils aspire for, the team does not let it conflict with its goal of daily improvement. They are confident that improving daily will bring them success in the long run. Spencer Hoey '19 discusses the future, "I am confident that the team's daily improvement will prepare us for the goal that we have kept in mind all year; to win the Centennial Conference Championship."