Men's Track & Field Places Third at Gettysburg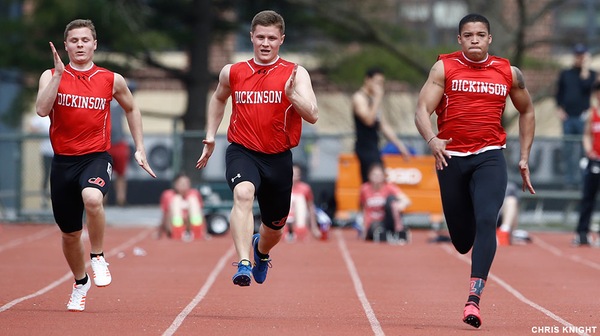 Hang on for a minute...we're trying to find some more stories you might like.
The Dickinson men's track & field team placed third at the Mason-Dixon Invitational, hosted by Gettysburg College, on Saturday, April 22.
The Red Devils captured first in two distance events as Kyle Fitch '18 won the 10,000-meters with a time of 34:26.52 and Bryce Descavish '20 earned the top spot in the 3,000 with a time of 10:04.42.
Devin Glasson '17 took home silver in the shot put and bronze in the discus with throws of 12.50 and 40.19 meters, respectively. Brock Hartman '20 and Francisco Villarreal '19 finished third and sixth in the shot put, respectively.
Josh Sack '19 was fourth in the 10,000, finishing in 39:18.09 while Matt Persick '18 placed fifth in the 3,000 steeplechase with a time of 10:28.94.
Marcus Robinson '18 clocked a time of 11.48 to place second in the 100 meters. Ryan Murphy '20 was sixth in the 100 and seventh in the 200 while both he and Robinson joined the fourth place 4×100 relay effort. Robinson also finished fifth with the 4×400 relay.
Michael Murphy '20 and Conor Beaupre '20 joined the 4×100 relay while Beaupre finished in the top 10 in the long jump and placed second in the triple jump with a distance of 12.62 meters.
The Red Devils placed both third and fifth in the 4×400 relay. Billy Dougherty '18 led off the relay and ran to sixth in the mile, followed by Matthew Loalbo '20, placing seventh in the mile.
Eric Herrmann '19 was second in the 800 meters and joined Mason Hepner '17 and Thomas Riordan '20 on the relay.
Matthew Trang '19 anchored the fifth place relay while also placing sixth in the 200 and seventh in the 400-meters. Will Chandler '19 and Eli Laue '17 ran the other two legs of the relay.
Patrick Nolan '17 was fifth in the 800 and Ethan Burg '20 ran to seventh in the 5,000-meter race.
The Red Devils had more strong showings in the throwing events as Robert Pearl '20 finished fourth in the hammer throw while Hugh Downs '19 had a fifth place showing in the javelin contest.
The Red Devils' next competition will be the Penn Relays at the University of Pennsylvania in Philadelphia on Thursday and Friday, April 27 and 28. They will head to Elizabethtown Saturday, April 29, for their last competition before the Centennial Conference Championships on May 5, 6 and 7.