College Football Week Six: Bring on the Upsets.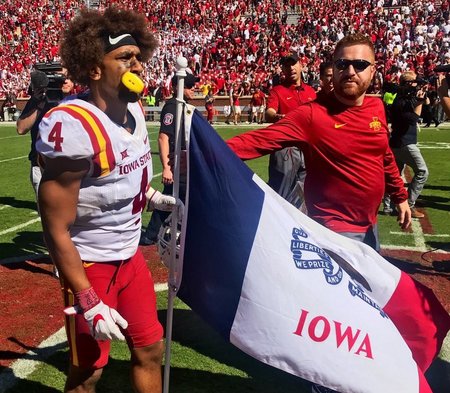 Hang on for a minute...we're trying to find some more stories you might like.
College football's sixth week of the 2017 season was filled with upsets and surprises. First, unranked Iowa State stunned the then No. 3-ranked Oklahoma Sooners in Norman, 38-31, their first win in Norman in over 25 years. To add insult to injury, Iowa State's Evrett Edwards planted the Iowa state flag right in the middle of the 'OU' logo at Oklahoma's midfield, a reference to OU's Baker Mayfield planting his school's flag at Ohio State's midfield after the Sooners beat the Buckeyes in Columbus.
Another eye-opening upset comes out of the Big Ten (B1G), as the Michigan State Spartans upset their archrival and then No. 7-ranked Michigan University Wolverines on their home turf at the Big House in Ann Arbor. The Spartans forced five turnovers to make up for their lack of production on offense, taking a 14-10 win and the Paul Bunyan Trophy home to East Lansing. Michigan State is often referred to as 'little brother' by Michigan fans, but some are starting to question that title as the Spartans have won eight of their last ten meetings against the Wolverines, most notably in 2015 when Michigan had the game all but won when they muffed a punt on the game's last play, wich Michigan State promptly returned for a touchdown to steal the win.
The No. 21 Florida Gators were upset on their home turf as well, as the Tigers of Louisiana State University came into The Swamp and beat their South Eastern Conference rivals, 17-16. The Tigers bounced back after a 24-21 loss to Sun Belt powerhouse Troy, whom they also paid $985,000 to come to Baton Rouge and play against them.
Some possible upsets to look out for this week are: Texas over Oklahoma, a heated rivalry that breeds chaos, Indiana over Michigan, as Michigan is only a five point favorite, and LSU over Auburn, another brutal conference rivalry that can easily swing in either team's favor.