Field Hockey Suffers Pair of Setbacks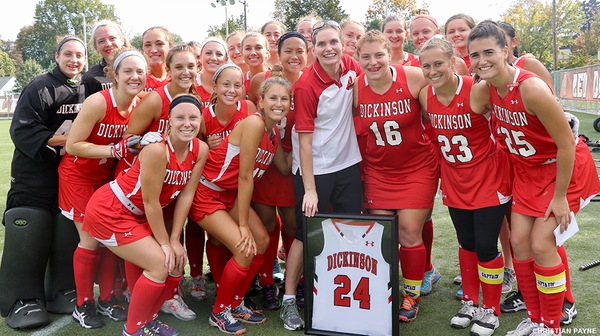 Hang on for a minute...we're trying to find some more stories you might like.
The Dickinson field hockey team suffered a 4-0 setback at Johns Hopkins University on Wednesday afternoon, October 4 in Baltimore and a 3-2 overtime loss against Washington College on Homecoming Saturday, October 7.
The Blue Jays tallied their first goal in the 17th minute as Princess Sutherland collected a rebound and scored.
Hopkins put two goals into the cage in quick succession to start the second half. Clare Kavanaugh scored 2:28 out of the break off an assist from Lucy Reider to make the score 2-0.
As Katie McErlean found the back of the cage just under two minutes later and Kavanaugh recorded her second goal of the game with 25 minutes left to play, with Morgan Pothast assisting on both goals, bringing the final score to 4-0.
The Red Devils were unable to generate much offensive production as the Blue Jays' defense bore down on them. Their best chance came on a a penalty corner by Alana Platukus '20, who made a shot that went off the post.
The Blue Jays outshot the Red Devils 22-4 and held a 16-8 advantage on penalty corners.
Hopkins goalkeeper Jodie Baris only needed to make one save on the day, with the lone shot-on-goal coming from Chelsea Kramer '19, while Freddie Bancroft '18 made 10 saves in the cage for the Red Devils.
Dickinson put the game's first goal on the board as Alex Bonser '18 assisted Kayla Bendinelli '19, 28:39 into the first half.
Washington opened scoring in the second half with a pair of goals within three minutes of each other to take a 2-1 lead with just over 25 minutes remaining in regulation.
Kramer tallied Dickinson's second goal with 15 minutes remaining to tie the game.
Neither team could gain an offensive edge before the end of regulation, forcing an overtime period. Each team managed four shots before Olivia Auer punched the ball through the Red Devil defense, 10 minutes into overtime to snag the win for the Shorewomen.
The Red Devils' record falls to 6-5 overall and 2-4 in the Centennial Conference.
The Red Devils will play host to Washington & Lee University on Friday, October 13 at 3:30pm.