Men's Soccer Opens Homecoming With Win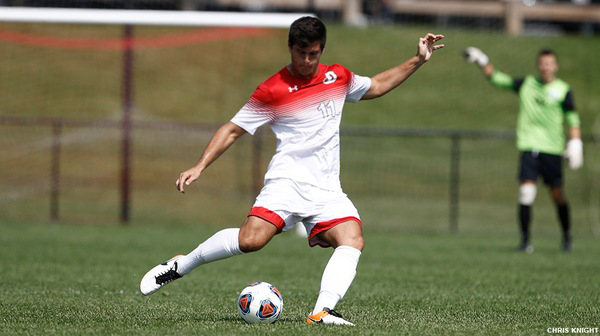 Hang on for a minute...we're trying to find some more stories you might like.
The Dickinson men's soccer team opened homecoming weekend with a close match against Washington College, taking a 3-2 win on Friday night, October 6 at Miller Memorial Field.
The Red Devils got on the board first in as Austin Thames '18 scored in the 28th minute as senior Austin Thames on a free kick from about 30 yards out.
Griffin Bull answered for the Shoremen as he fired a shot into Dickinson's net from the top of the penalty area with just over 10 minutes left in the first half.
Thames assisted Will Bracken '18 for a goal a short time later, giving the Red Devils their second goal and a one-goal halftime lead.
Washington tied the game late in the second half as Del Jenkins netted the Shoremen's second score of the game with 12 minutes to play.
Ward Van de Water '19 fed Macsen Pritchard '18 who put a header past the Shoremen goalkeeper for the game-winning score with just under 10 minutes remaining.
Washington outshot the Red Devils 15-10 and held a 7-4 advantage in corners despite the loss. Josh Samuels and Gavin Campbell combined for four saves in the nets as the Shoremen's record moves to 3-8 overall and 1-4 in the Centennial Conference.
Goalkeeper Frederick Meagher '20 made five saves before having to exit due to an injury. John Baney '21 came on to close out the match for Dickinson.
The Red Devils followed up Saturday's success with an impressive 6-0 win over the University of Scranton on Tuesday, October 10. Matt Edmonds '18 tallied a hattrick, scoring goals in the fifth, seventh and 53rd minutes. Kevin Gilbert '19 added two more goals to go along with an assist while Ryan Brown '18 tacked on a goal as well.
The Red Devils improve to 8-3-1 overall and 3-1-1 in the Conference. They are on the road on Saturday, October 14 to face Gettysburg.