Squash Faces Off Against Cornell, Williams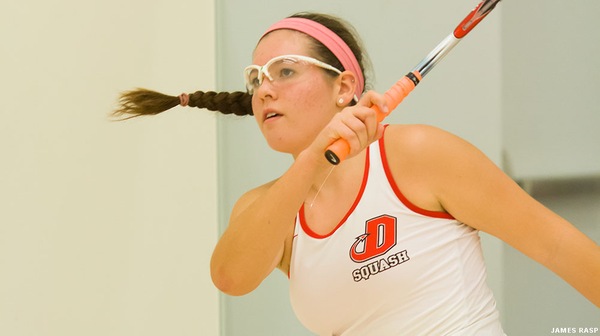 Hang on for a minute...we're trying to find some more stories you might like.
The No. 22-ranked Dickinson men's squash team split a pair of matches on Saturday, November 18, dropping the first match to No. 12-ranked Cornell University, 7-2, but bouncing back with a narrow 5-4 win over host No. 20 Williams College. The No. 23-ranked women's team battled No. 8 Cornell and No. 14 Williams as well, falling in both of their matches.
The Red Devil men won two straight flights after a loss in the first in a hard fought match with Cornell as classmates Finn Trimble '21 and Frank Goosens '21 earned wins in the second and third flights. Trimble topped Perry Hanson in four sets (11-8, 8-11, 11-2, 11-5) while Goosens downed Ian Rothweiler in straight sets, (11-7, 11-6, 13-11). Hal Holappa '19 lost the fifth flight in four sets, (11-9, 9-11, 11-7, 14-12), while Sergio '21 and sophomore Alex Wattles '20 each came up just short, falling in straight sets (11-9, 13-11, 11-9).
The Red Devils survived a back-and-forth battle with Williams, eventually winning 5-4.  Abdelrahman Elsergany '19 won the top flight in five sets (11-5, 9-11, 5-11, 11-9, 11-9). Elsergany started off with a 2-1 deficit but came back to force a fifth set, winning the set 11-9 after being down 8-5.
Williams strung together wins in the fourth and fifth and seventh and eighth sets, split by Cory Litman '19's win in the sixth in four sets (11-6, 7-11, 11-4, 11-6). Andrew Strudwick '19 and Tanay Murdia '21 capped things off in the ninth and tenth as Strudwick notched a five-set win (11-9,11-13,9-11,11-6,11-9) and Murdia won in five as well (7-11,8-11,11-5,11-7,11-5).
Cornell came to play against the Red Devil women, as the Big Red won all nine flights against the Red Devils by scores of 3-0. Domenica Romo kept things close in the second flight but couldn't manage a victory (11-9, 11-8, 11-5). Romo put in some great effort again in the second flight against Williams, playing to an (11-7, 11-3, 11-7) defeat.
Both Red Devils squads will be back in action on December 3, traveling to George Washington University in Washington, D.C. for a 1:00 p.m. match.