Swimming Falls on Senior Day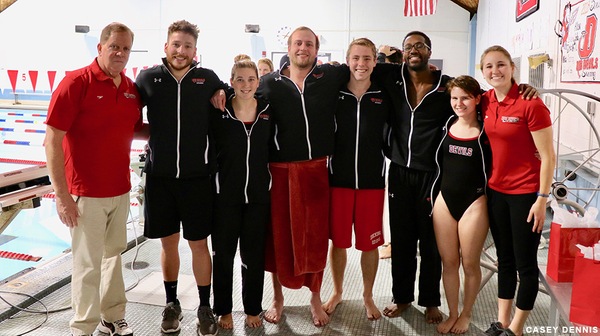 This Saturday, Feb. 10 the Red Devils men's and women's swimming teams faced a difficult meet against Swarthmore College. Although the competition would be fierce, the Red Devils were excited and ready to compete on Senior Day. The team was set to honor the six seniors who have made a large impact on every member of the team: Devon Korhammer '18, Sammy Holden '18, Allen Belo '18, Jake Beley '18, Nicholas Beard '18 and Mitchell Reynolds '18.
To begin the meet the team was filled with the excitement from the Red Out and the large fan section that was present in the audience. When Hannah Mulcahy '21 was asked about her pre-meet feelings she noted that, "There is some tough competition, but we got it in the bag."
The entire team felt the same way going into the meet. It was evident in the relays that started off. Katie Schmidt '19, Hannah Griffith '21, Molly Sternick '21 and Holden secured a win in the 400 medley relay.
On the men's side, they were able to secure a second place finish. The team consisted of Beley, Beard, Kiernan Jordan '19 and Belo. There was a large amount of excitement as they went on to their next events.
As the meet continued, the team secured many first-place finishes. Olivia Lyman '19 won the 1000 free and the 500 free. Reynolds came in second in both distance events. Sternick secured a win in the 100 individual medley as well as in the 100 freestyle. Jordan won the 200 fly followed by John Crafa '20 who secured third place.
One of the best events for the men and women was the 200 backstroke. On the girls side Schmidt took second place and on the men's side it was one of the first one-two-three finishes of the season for Graham Novitch '20, Liam Pauli '21 and Beley, respectively.
The entirety of the meet had everyone on their toes cheering from the side of the pool and in the stands. There was a strong finish to the meet in the 200 freestyle relay from Shannon Bonner '19 Ruhl, Holden and Samantha Florio '20. As well as for the men who won the event with Benjamin Shapiro '19, Novitch, Tyler Catania '21 and Belo.
Although the men and women fell, 121-83 and 122-82 respectively, it was a great last meet for the seniors. Both Red Devils teams will travel to Franklin and Marshall for the Centennial Conference Championships over the weekend of Feb. 22-25.