Softball Falls to Washington College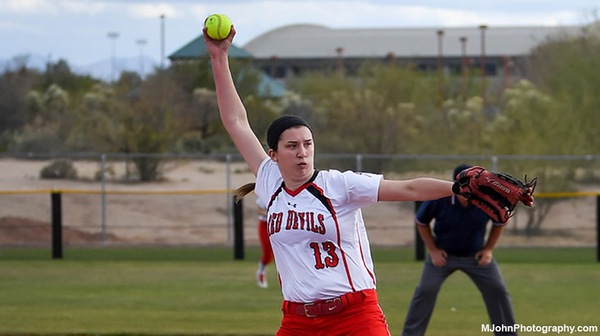 The Dickinson softball team was scheduled to face a difficult week of three double headers, but after cancellations and postponement, they only had Washington College to host on Saturday, April 14. The potential hosting of Frostburg State on Thursday April 12 was cancelled and the games versus Haverford College scheduled for Sunday April 15 were postponed.
Washington College brought a challenge for Dickinson but they competed to the best of their ability.  The first game started with strong potential for the Red Devils to secure the victory. It began with Dickinson pulling ahead by 2 in the bottom of the third. Bridgette Gutpelet '21 tripled and scored for the first run of the game followed by Kat Parise '20 who singled and came in for a run.
Unfortunately, these were the only two runs the Red Devils could bring in. Madison Milaszewski '20 pitched the strongest game she could with a total of 12 strikeouts but the Shoremen were able to take the lead in the top of the 6th, scoring 4. This brought the final score of the first game to a 5-2 finish in favor of Washington College.
The second game was quick to follow and Dickinson fought hard to the finish. With Washington College scoring two in the first inning the women felt pushed to answer back quickly and they did in the bottom of the 5th to bring the game to a tie. Parise made the push, bringing in Gutpelet and Kat Vill '21. In the top of the 6th the Shoremen took the lead, scoring once, and never looked back for a final score of 3-2 in their favor. It was an unfortunate pair of losses for the Red Devils.
Last week's action brought the Red Devils overall record to 13-13 and 2-6 in the Centennial Conference. We wish the women luck as they look to host McDaniel this Saturday, April 21 in another double-header, with the games scheduled to begin at 1 p.m. and 3 p.m. at Dickinson Park.