Field Hockey Falls to York, Defeats Lebanon Valley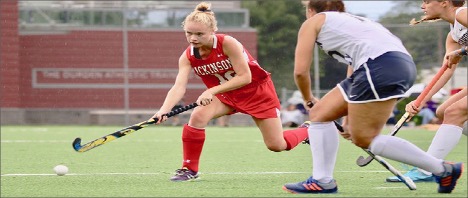 The Red Devils Field Hockey team return to the field this fall season playing with strong teamwork and as a cohesive team. 
Although the start to the season was not the strongest the women have seen in the past, it did not cause them to get discouraged, but only to get stronger. Taking on eight first years brought a new dynamic to the team.  
In speaking with Marie Laverdiere '21 about the start of the season so far she responded without hesitation, "This season we are focusing on playing with heart, and I think that's helping us grow and stay motivated." Each game the players work for each other and not just the advancement of themselves and it shows on the field even in the losses.  
Wednesday Sept. 5, the Red Devils hosted York College. Unfortunately, Dickinson fell to York but not without putting up a fight. They were able to hold the final score to 0-2, only allowing nine attempted shots to be made at goal. Goalkeeper Heather Meeder '20 played a strong game and kept the Red Devils in the game. The women of Dickinson got 13 shots on goal playing good hockey and continuously bringing the ball strongly down the field.
The women used this momentum Saturday Sept. 8 against Lebanon Valley. This game marked the first win for the season for Dickinson. The women fought all the way to the end, not letting a minute pass without trying to control the ball and get it into scoring range.  
Laverdiere '21 was first to put the Red Devils on the board followed by Ellie Werner '22. Lebanon answered with two of their own bringing the score to 2-2 going into the half.  
In the start of the second half, Emma Godfrey '21 was able to score a stellar goal and bring the Red Devils to a 3-2 lead which they maintained for the remainder of the game making 3-2 the final score in favor of Dickinson.  
The women will continue to fight for a winning record similar to the one of the previous season. We wish the women luck for continued success.