Men's Track & Field Finishes Third at Conferences
The Dickinson College men's track and field team has a strong final showing.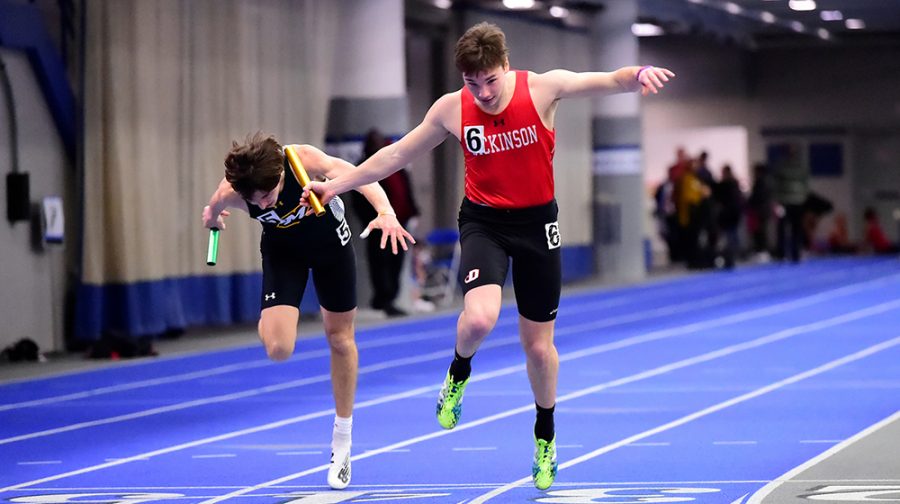 Sammi Werner '21, Sports Editor
March 5, 2020
The Dickinson College men's track & field team had a strong weekend competing in their final meet of the season this past Saturday, Feb. 29, and Sunday, Mar. 1 at the Centennial Conference Championships where they placed third overall.  
To start the first day, the men captured, third, fourth, and fifth in the weight throw with Nana Yaw Agyeman '23 placing third, followed by James Lotz '20 and Brock Hartman '20 respectively. The men were also able to cross the line for a close second in the 4×200 relay. The team consisted of Cole Boback '23, Ryan Murphy '20, Ben Brandeis '22, and Kacper Rzempoluch '21 as anchor. Brandeis also came in sixth in the 60-meter hurdles and Garret Randall came in sixth in the 60-meter dash in finals. In the 5000, Bryce Descavish '20 came in fifth and captured sixth in the distance medley relay with Ryan Heskin '23, Luke Sternick '23, and Teddy Mercer '23, and Thomas Riordan '20. 
The next day also included many strong finishes to help the men secure third. Boback won the 200 and 400 meters. Hartman captured silver in the shot put and Nana Yaw Agyeman came in fourth. Rzempoluch commented on the day, "The energy was electric. It was so nice to see everyone work towards a common goal and achieve such high results at such an important meet."  It was a success.