Dickinson Students, Grads Eligible for up to $20k in Debt Relief
Ben Warren , Associate News Editor
September 9, 2022
Dickinson College students and graduates who took out federal student loans to pay for college may now be eligible for up to $20,000 in debt relief, following an executive action announced last month by the Biden administration. 
People who received federal student loans and earn up to 125,000 dollars or are from households earning up to 250,000 dollars a year are eligible for up to 10,000 dollars in loan forgiveness if they received subsidized or unsubsidized federal student loans, or up to $20,000 in relief if they received a Pell Grant, a program intended for lower-income students.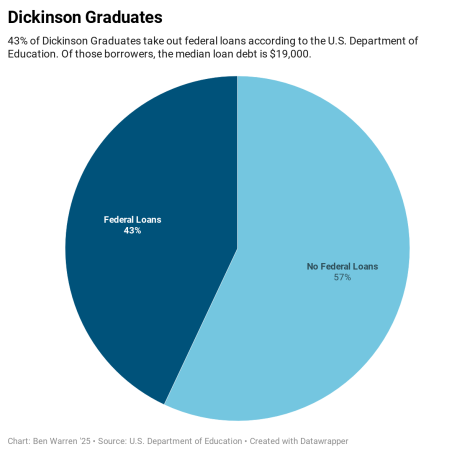 Ariana Allen '25 is one of the borrowers who will benefit from this program, which will eliminate the loans she took out to pay for tuition last year. The relief will not apply to loans she may take out in the future, but still, Allen says, "It's great! It makes me feel a lot better about not being in debt my whole life. A lot of my family members are still paying off their insane student loans."
43% of Dickinson students take out federal loans to pay for college, with their median loan debt weighing in at $19,000. Even taking the added relief for lower-income students out of the equation, the plan could relieve up to 2 million dollars' worth of student loan debt per  graduating class. 
The debt relief plan also extends the current freeze on student loan payments until the end of this year and decreases the payment for borrowers on an income-based repayment plan by half.
Current students are eligible for loan relief as well as graduates, though only if their loans were disbursed before June 30 of this year. This means that first-year students are not eligible for loan forgiveness. For upperclassmen, only loans provided for previous years' tuition may be relieved.
Professor of Economics Xiaozhou Ding foresees both positive and negative consequences of  this new policy. He says that while we should see monthly payments go down, which will free up cash for other purposes, like paying off car loans or putting a down payment on a house, he worries about the precedent the move sets. Ding says, "rationally speaking, if I know that I can get $10,000 for free, I will borrow more." He worries that this mindset could encourage students to take out more loans than they can afford.
Ding also notes that the loan relief policy does not solve what he sees as the root issues of the student loan debt crisis: rising tuition costs, stagnant wages, and students taking on debt before ultimately failing to complete their degree. He says, "If I'm the policy maker here, I would try to solve the problem from the beginning. How can we make students stay in college? How can we make students get a good job."
Interim Director of Financial Aid, Erica Burg, would also like to see the government pursue further policy actions. She says, "doubling the Federal Pell Grant would have a more positive impact on future and current students at Dickinson. As for graduates, simplifying Federal Loan Repayment Plans would help borrowers better understand their options."
Regardless of any adjustments to the federal student loan program, Burg does not "foresee this impacting Dickinson's financial aid process."
An additional positive outcome of the loan relief plan may be the increased likelihood of students that choose to pursue graduate level education . Keelyn Ervin '25 says, "That's what I'm looking forward to the most…that I won't feel so overwhelmed about going into grad school. That I won't feel like I'm screwing myself over for life."
The Department of Education has not yet released the application for debt relief, but it plans to in the coming weeks.