Softball Drops Pair to Randolph-Macon
John O'Neil '14, Sports Writer
February 28, 2013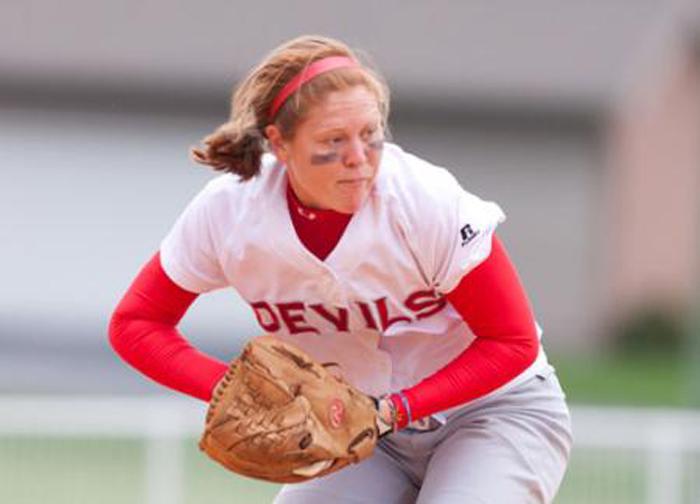 The Red Devils dropped a pair at Randolph-Macon in their annual season-opening doubleheader on Sunday, Feb. 24.  Randolph-Macon won the first game, 8-1, before following up with another eight-run output and a shutout in the second game.  Dickinson went 12-26 last season; Randolph-Macon is coming off a 29-14 campaign.
Dickinson threw two First-Year pitchers at the Yellow Jackets in game one as Micki Crouch '16 got the start. She went four innings, allowing four runs (all earned) on five hits and two walks. Cassie Blyer '16,  came on in the fifth with her team down 4-0 and held Randolph-Macon scoreless in her first inning of work. After Dickinson responded with a run to cut the deficit to 4-1, Blyer was let down by her defense as Dickinson made two infield errors in the bottom of the sixth. Randolph-Macon capitalized on their opportunity and plated four in the inningBlyer finished with a line of two innings pitched, four runs (none earned) on four hits and no walks.
The Dickinson offense totaled five hits, led by shortstop Melissa Osborn '13's two. Osborn also drove in the Red Devils' only run, knocking in rightfielder Katie Swade '15 from third on a sixth-inning single.
In the second game, Dickinson's offense sputtered in a shortened (five-inning) game. They only totaled two hits, both on singles by third-baseman Becca Garlinger '15. Blyer got the start in the second game and once again went two innings. She allowed two runs, both earned, on three hits. Chelsea Homa '14, Dickinson's ace from last season, came on in the third and allowed six runs (four earned) over two innings.
The Red Devils do not play again until their annual spring break trip in Arizona. The team is confident they can use this time to get better before conference season begins in late March.  "Our team is looking forward to improving our communication skills," said catcher Jay Abell '16.  "Being cooped up inside for the past five weeks did not allow all of the positions to communicate in the way they would during a game."
The doubleheader is scheduled to start at 12 pm.