Field Hockey Scores 1-0 Upset in CC Opener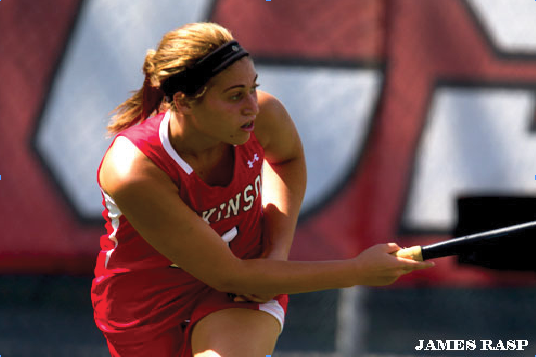 The Red Devils improved to 2-2 this week after upsetting Haverford on the road. After a week off, the Dickinson Field Hockey team travelled to Haverford College on Saturday, Sept. 14 and struck early to win their Centennial Conference opener 1-0. Last season, Haverford was a very strong team and went on to place second in the conference. "Everyone worked hard and it was a well deserved win and a huge statement to the conference," said Alyssa Stillwell '16.
Goaltender Katy Schlechtweg '14 was named Centennial Conference Defensive Player of the Week for her shutout effort.
The goal occurred just six minutes into the 70 minute game as forward Catherine Perlmutter '17 was able to get one past the Squirrels' goalie with an assist from her classmate Kendal Packo '17. This was Perlmutter's third goal of the season as she continues to be a huge impact in her first season with the Red Devils. Both squads went into the halftime break having generated only three shots apiece. The Fords' goalie made two saves while Schlechtweg made one. Ten minutes into the second half, the Fords were able to generate a scoring chance, but the shot hit the post and the shot off the rebound was blocked.
Led by Schlechtweg, The Devils were able to sustain the lead throughout the entire game with help from a strong defensive effort. "After we scored early, we were able to play strong defense and maintain a shut out," said Stillwell.
Schlechtweg saved three shots to earn the shutout. This was her first shutout of the season and the third of her career.
Perlmutter gave credit to the strong defensive play that supported the offense and their hard work leading up to the game saying that "We practiced really hard all week because it was our first conference game. Our coach always tells us it takes a great team to win a game 1-0 and that is because our defense played really well."
Statistically, the game was very even on both sides. Both goalies had to make three saves in the game. Haverford had a slight upper hand in shots, where they led 6-5. Perlmutter fired two shots on goal and Ali Becker '15, Caroline Karwel '16, and Erica Marshall '17 all contributed one shot. The Devils held a 4-3 advantage in penalty corners.
The Red Devils will take on Neumann University on the road on Wednesday, Sept. 18 with a 4:00 p.m. start and will return home on Saturday, Sept. 21 to take on Swarthmore College at 1:00 p.m. The Saturday game will be the Red Devils' first home Centennial Conference game as they take on the Garnet, who finished 9-9 last season. They have started this season 2-4 but have yet to play a conference game. "We hope to keep moving forward and improving so that we can dominate the conference this year. This win gave us huge momentum moving into conference play this week and we hope to defeat Swarthmore on Saturday," concluded Stillwell.