Volleyball Splits Week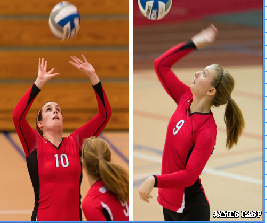 The Dickinson volleyball team opened Centennial Conference play at Haverford College on Saturday afternoon. The Red Devils lost the three-set match 25-16, 25-19, and 25-13. The team then hosted Albright College on Monday night and claimed a 3-0 win, winning the three sets by scores of 25-17, 25-17, and 25-23, respectively.
Laura Silverman '16 recorded six kills and a pair of blocks despite the teams' loss against Haverford on Saturday. Lauren Ahern '17 handed out five kills and two blocks. Grace Morgan '13 recorded a match-high 20 digs while Jenn Morrissey '16 added 16 assists.
Silverman came up with another big performance on Monday adding match-high 17 kills. The Red Devils won the first and second set 25-17 and the third set a 13-13 tie. Jenn Morrissey recorded 39 assists for the match that went over 800-assist mark for her collegiate career. Last year, as a first year, she recorded 582 assists.
The Red Devils are currently 4-6 overall and 0-1 in the Centennial Conference. The team will be traveling to Swarthmore College on Saturday, Sep. 21, for another Centennial Conference matchup. The game is scheduled to start at 1:00 p.m. Last season, Swarthmore defeated Dickinson in straight sets, 25-3, 25-17, and 25-10. Swarthmore has started this season 9-3 but has yet to play a conference game.