Dickinson Among Top Teams at Nationals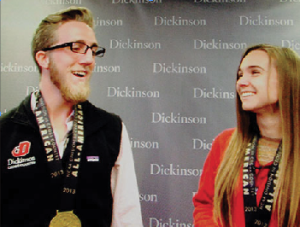 On Saturday, Nov. 23, Dickinson Men's and Women's Cross Country teams concluded another succesful season with top-15 finishes at the NCAA DIII Championships in Hanover, Indiana. The men, led by Ryan Steinbock '14, finished eighth, while the women, led by Sara Patterson '14, finished fifteenth.
The men have built a dynasty during the class of 2014's time as they finished top-10 in the country for the third time in four years. This year's eighth place finish is the second best in school history. The women have now finished top-25 14 times in the last seventeen years.
In the men's 8K event, Steinbock's performance is the best ever by a Red Devil at the NCAA Nationals. He concludes a brilliant career with an All-American selection, a First-Team All-Centennial Conference selection this season, and two other Second Team All-Centennial Selections.
Hunter Smith '15 placed second amongst the Red Devils, running to 77th place. Greg Clark '14 (85th), Alex Strenta '14 (115th), and Mark Weinhoffer '15 (123rd) rounded out the scorers for Dickinson.
In the women's 6K event, Patterson placed 31st in the nation with a time of 21:57, which was good enough to earn her a spot on the All-American team. She wraps up her cross country career with an All-American award and two All-Centennial Conference recognitions, including this season.
Emily Miller '14 and Sarah Rutkowski '15 were named to the All-Centennial Conference Second Team alongside Patterson. Miller ran the second best time among Red Devil women at nationals, finishing in 22:37, good for 98th place. Rutkowski placed 200th with a time of 23:21.
Mackenzie Shelgren '16 and Molly Thorne '15 went down to the wire as Shelgren edged out Thorne by one second, 22:44 to 22:45. These times placed Shelgren and Thorne 117th and 123rd, respectively.