Dickinson Dominating Centennial Competition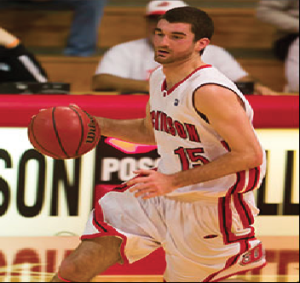 The Dickinson Men's Basketball moved to 3-0 in conference play by defeating McDaniel 64-52 on Tuesday, Dec. 3. This followed a 74-52 win over Gettsyburg on Tuesday, Nov. 26 and a 73-52 win over Haverford on Saturday, Nov. 23, making it three double-digit wins in as many Centennial games for the Red Devils.
Dickinson has showed a variety of looks early on in the season, relying on several different players to play prominent roles.  While they have shown plenty of firepower, averaging 74.5 points per game, it's on the defensive end where Dickinson has stepped it up. They have held their opponents under 40% shooting in all five of their wins and are teams are shooting a combined 35.5%, a number inflated by Juniata's 45.6% shooting in their 68-66 win over the Red Devils. Dickinson's length and ball pressure has caused 12.8 turnovers per game over their five wins.
Against Haverford, the Red Devils played down to their opponent early on and only led 27-24 at halftime. The beginning of the second half was reminiscent of the first half of the NCAA tournament game against Marietta last season as Dickinson scored 19 points in the opening 5:13 to pull away, 46-29. Haverford would cut it to 9 at 46-37, but from that point on, Dickinson cruised to a 73-52 victory. Gerry Wixted '15 tallied 14 points, 13 rebounds, and 6 assists in 27 minutes of play. Brandon Angradi '16 also added 14 points, hitting three three-pointers, including a four-point play to cap off Dickinson's blazing start to the second half.
Dickinson got going earlier against Gettysburg as they played an up-tempo game, getting off 30 field goal attempts and getting to the line for 7 free throws in the opening 20 minutes. Dickinson led 35-24 at the break and Gettysburg never came within 8 over the final 26 minutes of the game. Wixted led the way with 22 points. Tucker Landy '14 added 14, and 10 different Red Devils scored in the game.
Playing without starting point guard/First-Team All-Centennial selection Adam Honig '14 (injury), Dickinson faced a new challenge in the McDaniel game. Pete Yingst '15 got his first career start in place of Honig and Brian Gerney '14 picked up the slack as well.
The Red Devils relied on hot outside shooting to jump out to a 22-4 lead against McDaniel. Dickinson pounded the ball inside to both Wixted and Steve Collins'15, getting the McDaniel big men in foul trouble early and forcing them to switch to a 2-3 zone. Dickinson capitalized and killed the McDaniel zone, draining six threes in the first half. It appeared as if McDaniel made the necessary adjustments late in the first half when they went on a small run to cut the score to 31-17, but a Gerney three on the last possession killed their momentum going into the half.
In the second half, McDaniel kept it competitive but never brought the score closer than it was at the end. The game ended with Dickinson on top 64-52.
The Red Devils played nine different players double-digit minutes as each of them got into the scoring column. Collins led the way with 21, inclduing 2-3 from deep, and Landy had 14 on only 6 shots, going 4-5 from three.
The Red Devils return home to host Swarthmore on Saturday, Nov. 7. After that, they will play nine games over winter break. Five of them are in conference, including a showdown with Franklin & Marshall on Jan. 22.