Red Devils Remain Atop Centennial Conference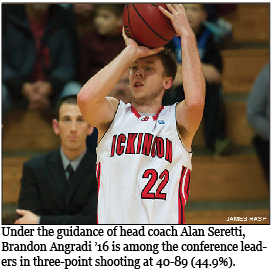 After suffering their first Centennial Conference setback to Franklin and Marshall, the Dickinson College Men's Basketball team returned strong to defeat Swarthmore 80-52 on Saturday, Jan. 25.
The Red Devils fell to Franklin and Marshall 67-58 in a tough-fought battle on Wednesday, Jan. 22. Throughout the first half, the game was a toss up with both teams competing strongly. At 16:53 in first, Brandon Angradi '16 sunk a three-pointer to put Dickinson up 5-4. After the Diplomats answered to regain the lead, Angradi made another three to regain the advantage to 14-11 with 11:22 remaining in the first half.
The Diplomats put nine consecutive points on the board to take a 23-17 lead. With just under six minutes to play in the half, co-captain Tucker Landy '14 made a three-pointer and assisted Steve Collins '15 on an inside bucket. Angradi tied it up with a pair of free throws with 3:27 on the clock and Landy and co-captain Adam Honig '14 each scored to put the Red Devils ahead at halftime, 31-29.
Franklin and Marshall started the second half on a six-point run to take a 35-31 lead.  Gerry Wixted '15 converted an old-fashioned three-point play to bring the Red Devils within one; however, it was the closest Dickinson would get as they trailed the remainer of the game. With 4:52 remaining, the Diplomats held the largest lead in the game, with the score being 59-42.
Due to the Diplomats' struggles at the free throw line, the Devils were able to stay in the game. Angradi hit another three to shorten the lead to 64-58 with 39 seconds remaining. The game ended with F&M going to the foul line three more times for a final score of 67-58. Angradi, who led the Red Devils with 14 points, said "They came out more aggressive and beat us to loose balls. We got comfortable and they attacked us." He was followed by Tom McInerney '14 with 10 points while Landy finished with nine points and seven rebounds, and Honig tallied five points, five rebounds, three assists and two steals.
Coming off the loss, the Red Devils erupted early at Swarthmore opening with a 17-5 lead in the first eight minutes of the game. With 7:04 remaining in the first half, Tom McInerney hit the jumper to stretch the lead to 27-11. The Red Devils held a double-digit advantage for the remainder of the half and Pete Yingst '15 made a pair of free throws to give Dickinson the 41-25 lead going into halftime.
The Red Devils quickly extended the lead to 20 points on the three point play by Adam Honig just two minutes into the second half. Dickinson did not let up as the game progressed and stretched the lead to as many as 23 in the final minutes. A total of 12 players contributed to the scoring effort, which was led by Honig with a game high of 21 points followed by 11 from McInerney and 10 points from Steve Collins. "We shared the ball extremely well," said Collins. "We have several different guys step up at different positions and times throughout the game."
Dickinson improved to a program best 9-1 in the Centennial Conference and will travel to Washington College on Saturday, Feb. 1 for a 2:00 p.m. start. The Shoremen are 4-13 overall, including 3-7 in the conference. "As long as we come to practice everyday trying to get better and don't take any game lightly, we should set ourselves up nicely for another run in the postseason."