Women's Basketball Celebrates Annual Play 4Kay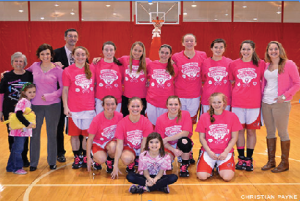 Despite being unable to pull out a win against Gettysburg or Ursinus, the Dickinson women's basketball team made a huge philanthropic impact in their efforts to raise money through their Play 4Kay event. All donations and proceeds from team fundraising went to the Kay Yow Foundation, which raises money for breast cancer awareness and research nationwide.
The Play 4Kay event flooded the room with pink as the Red Devils took on Ursinus for the second time this season. With a final score of 60-47, the margin was much tighter this game compared to the last match up. Although Dickinson started off fairly strong, a 10-0 run by Ursinus changed the momentum and pushed them into the lead in the first half. Earlier in the week, Dickinson lost to Gettysburg, 56-47.
Against Ursinus, Erica Buls '17 had a strong push early in the second half helping to tie up the game. With just over 14 minutes left, Dickinson began to lose control over the play as Ursinus started to quickly rack up points. Mary Martin '17 played well, tallying 9 points and 8 rebounds.
The Red Devils played a more competitive game against the Bullets last Wednesday. Although Gettysburg was first to get on the board, Sarah Phillips '15 was quick to hit a solid three pointer to push Dickinson into the lead. With 11 minutes remaining in the first half, Dickinson was up 4 points, and they led 30-25 at halftime.
The Bullets quickly took advantage of scoring opportunities to work toward minimizing the margin, however, Rachel Sisco '16 entered the second half with a 3 pointer that raised the score to 35-26.
A group of fouls allowed the Bullets to maintain their advantage. They were able to make 7 free-throw shots in the last minute and a half of play. Martin, once again, finished strong with 13 points and 10 rebounds while Buls contributed 6 points in addition to two blocked shots.
The Red Devils are currently 4-16 overall and 1-14 in the Centennial Conference with three conference games remaining in the season. They will face McDaniel at home on Wednesday, Feb. 12 at 6:00 p.m. and will travel to Bryn Mawr on Saturday.