Red Devils Ready to Host Conference Tournament
The men's basketball team is set to host the Centennial Conference Tournament over the weekend of Feb. 28-March 1. Dickinson, the top seed, will play the winner of the first round game between #5-seed Muhlenberg and #4 seed McDaniel on Friday, Feb. 28 at 8 p.m. Muhlenberg visits McDaniel on Wedneday, Feb. 26. For the conference championship, the winner of Dickinson vs. Muhlenberg/McDaniel will play the winner of #2-seed Franklin & Marshall vs. #3-seed Johns Hopkins, who are set to play in the Kline Center on Friday at 6 p.m. The championship game will take place on Saturday, March 1 at 7 p.m.  Dickinson students will be permitted into all of the games for free.
The Red Devils wrapped up the regular season by splitting their last two games. On Wednesday, Feb. 19, they defeated Muhlenberg 92-86 before falling to F&M on Saturday, Feb. 22, 72-57. F&M has defeated Dickinson twice this season, handing the Red Devils two of their three conference losses.
In Allentown, the Red Devils defeated Muhlenberg for the first time in over two years. Earlier this season, Muhlenberg visited the Kline Center and came away with a 75-72 win, their fourth consecutive win over Dickinson.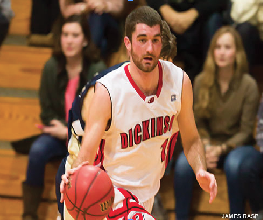 The Red Devils relied on primary scorers Adam Honig '14 and Gerry Wixted '15, who had 18 and 17 points, respectively. Nine different Red Devils scored, including 11 apiece from Tucker Landy '14, Steve Collins '15, and Chris Cox '15.
After shooting 56.9% from the field against Muhlenberg, Dickinson struggled mightily on the offensive end in the first half against Franklin & Marshall. They were held to 30.4% shooting and scored a season-low 19 points in the first half, failing to score at all in the first five minutes and trailing 28-19 at the break.
Honig began the second half with five consecutive points to bring the Red Devils within four, prompting a timeout from F&M. Although they appeared to have claimed the momentum, Dickinson failed to cut the lead to closer than four at any point for the remainder of the game.
Celebrating his senior day, Honig netted 27 points on 10-17 shooting, including 5 made three-pointers. His scoring kept his team in the game as no other Red Devil scored more than 6 points.
Dickinson will face either McDaniel or Muhlenberg in the conference semifinal. They have handled McDaniel twice this season, defeating the Green Terror 64-52 on Dec. 3 and 83-61 on Feb. 12. Muhlenberg, on the other hand, has been a tough matchup for Dickinson over the last few seasons.