Baxter Comes Up Big in 9-3 Conference Win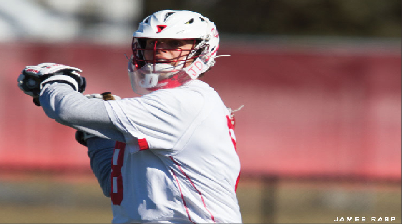 The men's lacrosse team beat Swarthmore 9-3 on Saturday, April 19. The win puts the Red Devils at 7-6 overall, including 4-2 in the conference, good enough for a third place tie. They will need to win at least one of their final two games in order to maintain a playoff spot.
Against Swarthmore, Tyler Llewelyn '17 and Brian Cannon '14 started the game off strong by helping their team establish a 2-0 lead at the end of the quarter.
Llewelyn broke the scoreless tie with a goal about halfway through the period, and Cannon added another a few minutes later. Brian Gleason '14 and Brett Parker '15 assisted the goals respectively.  Overall, Gleason had a very strong game, assisting on three goals. Llewelyn scored two goals for his team.  Brian Cannon also scored two goals and assisted teammate Kobi Frankell '16 in one of his two goals.
In the second period, the Red Devils jumped out to a commanding 4-0 lead and led 4-1 entering halftime. In the third period, Dickinson rattled off four unanswered goals to go ahead 8-1 and end any competitiveness in the game.
Will Scott '14 assisted Reid Barger '17 in his goal.  Collin Farrell '15 had one goal in the game against Swarthmore.  Brett Parker '15 finished the game with two assists.  Greg Shildkrout '16 had one goal in the game.
Defensively the Red Devils controlled the action and kept Swarthmore from penetrating the interior.  Draper Donley '14 had three caused turnovers and had four groundballs.  Nick Baxter '16 had an excellent game in net, saving 16 shots.
On Wednesday, April 23 Dickinson faces Muhlenberg under the lights at 7:00 on Biddle Field.  Friday, April 26 the Red Devils will face Frankin and Marshall.  The team hopes to continue bettering their record to assure their place in the Centennial Conference playoffs.