Record Breaking Night at Dickinson Twilight Invitational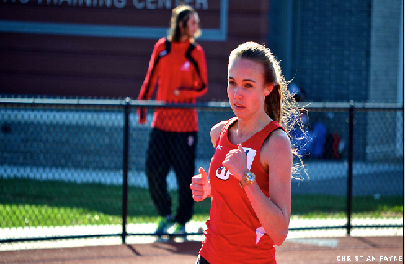 Both the Dickinson Men and Women's Track and Field teams placed second at their own Twilight Invitational on Wednesday night with many record-breaking performances.
Sara Patterson '14 started the meet off by setting a new mark in the 3000 meters, running a time of 9:48.35.
The Red Devils also broke two school records in the distance medley relay. The men's team consisting of Mason Hepner '17, Aaron Pannell '14, Jonathan Jackson '14 and Ryan Steinbock '14 shattered the previous mark of 10:37.70 with a new time of 10:14.59.
The women's team of Maeva Riley '14, Olivia Schumann '15, Mackenzie Shelgren '16, and Sara Patterson '14 posted a time of 12:32.45 in their record-breaking performance.
"Both relays went into the DMR with the goal of breaking those records," said Mason Hepner '17. "It was awesome that we both had success."The men and women's distance teams added many additional wins.
Steinbock placed second in the 1500 meters, clocking a time of 3:55.98. Zach Simmons '16 and Nick Stender '15 dominated the men's 3000 meters, placing one-two with times of 8:51.31 and 8:51.59, respectively. In the women's 3000, Sarah Rutkowski '15 and Taylor Ludman '14 finished strong in second and third.
In the 5k, Dickinson had five men place in the top eight, led by Alex Strenta in second (15:18.04) and Peter Sisson '14 in third (15.21.20). The women finished 2-4-5, led by Carly Pierson '16 in second, clocking in at 19:35.46. Hannah Kisley '15 and Emily Davis finished not far behind in fourth and fifth.
In the men's 3000-meter steeplechase, Jamie Martin '14 ran to third with a time of 10:41.79. In the women's race, Mary Rzegocki '14 finished first in 11:49.06. Anne Dryoff '14 followed behind to finish third in 12:45.02.
Aaron Pannell '14 won the 100 meters, finishing in 10.81. Mu Mu '15 ran to a second place finish in the 100 meters hurdles (15.59). Sophie Moore '17 finished fourth in the 400 meter hurdles. Aphnie Germain '17, Jamie George '17, Kristina Link '15, and Olivia Schumann '15 dominated the 4×100, finishing with a winning time of 50.29. Germain and George also placed second and fourth in the 200 meters.
The women's 4×400 relay of Jamie George, Rachel Brown '14, Imani Beard '17 and Sophie Moore '17 placed second, racking up some additional points.
Dickinson was also successful on the field. Aaron Pannell cleared 6.40 meters to win the long jump. Hart Rainey '16 won the triple jump, clearing 12.34 meters.
Rikka Olson '17 cleared 3.20 meters in the pole vault, placing second. Kayla Zoschg '17 placed second in the javelin, throwing a distance of 36.68 meters.
Amanda Jimcosky '17 scored a second place finish in the high jump (1.58m). Gillian Ferko '15 placed third in the discus.
Both teams will compete at the Penn Relays on Thursday, April 24 before travelling to Shippensburg to compete in the Paul Kaiser Invitational on Saturday,  April 26.