Swarthmore Sweeps Devils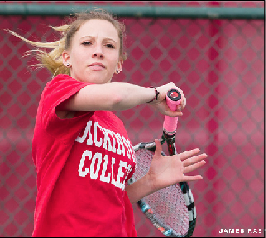 The Dickinson College men's tennis team suffered a decisive loss to #6 nationally ranked Swarthmore College, 9-0, on Saturday, April 19. First years put up a solid fight on the singles side. Steven Kaplan '17 participated in the fourth singles flight and fell 7-6 and 6-3 in a hard fought match. Classmate Clark Chapman got off to a slow start but took four games in the second set, ultimately losing 6-0 and 6-4 in the second singles flight.
Chapman teamed up with Erik Dinardo '15 in the number one doubles spot where they were defeated 8-5. The men slipped to 5-9 overall and 3-4 in the Centennial Conference.
The women's tennis team turned in many strong performances, but ultimately fell to Swarthmore 8-1. Senior standout Shannon Lavery dropped a three-set battle in the top singles flight where she claimed the second set. Lavery and Madeline Altholtz '14 put up a strong fight as a doubles unit but fell 8-5 in the first flight.
Sydney Diamond '16 was able to hold her own in the second singles flight, claiming the second set, but falling in the third. First-year Madison Parks continued her strong rookie season by winning the fourth singles flight to give the team their only point on the day.
The Red Devil women dropped to 7-7 overall and 5-3 in the Centennial Conference.
Both teams will be on the road April 26 when the men travel to Franklin and Marshall, who are 4-3, and the women take on the Muhlenberg Mules, who stand at 5-3 in the Centernnial Conference.