Volleyball Serves Up Albright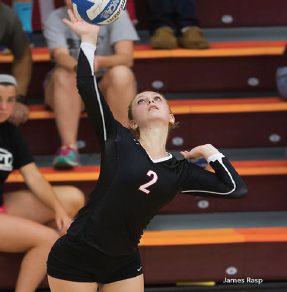 Last week the Dickinson Red Devils Volleyball team split both non-conference and Centennial Conference matchups against Albright, and rival Haverford on alumni and parent's weekend.
The Dickinson women's volleyball team posted a 3-1 win at Albright College on Thursday night on Sept. 18, improving to 3-6 on the season.The Red Devils closely claimed the first two sets,(25-20, 25-22), before theLions answered with a 25-20 decision to force a fourthset. Dickinson regrouped to claim the match, 25-18 in the fourth set.
The Red Devils had four players reach double-figures in kills, combining for 55 in the match. Lauren Beecher '18 led the Devils with a match-high 13 kills. Emily Smith '16 and Gillian Chan '18 each added 12 to the impressive effort. Smith also recorded nine digs and served up a pair of aces.
Norma Jean Park '18 reached double-digits with 10 kills, adding a pair of service aces, and assisting on three blocks. Setter Jenn Morrissey '16 dished out an outstanding 51 assists on
the Devils' 55 kills, adding a pair of kills herself along with four digs and a block.
The Red Devils played host to visiting Haverford College on Saturday, Sept. 20. The 'Fords escaped a tight first set, 25-23, and took a 2-0 advantage with a 25-17 decision in the second. The Red Devils answered to extend the match, claiming the third set, 25-22.
Haverford got off to a strong start in the fourth set, and the Devils were unable to recover, falling 25-9. While the Red Devils didn't come away from the match with a favorable outcome, it was an encouraging performance as the girls' team played well in a high-pressure environment against a legitimate conference foe.
Beecher led the Red Devil attack once again with 11 kills, while Park added nine to the effort. Libero Arielle Misrok '17 tallied 14 digs to go with a pair of kills and an ace. Morrissey dished out 27 assists, adding eight digs herself. Lauren Ahern '17 chipped in with an additional five kills and three solo blocks on the afternoon. Morrissey is currently second in the Centennial Conference in assists per set, averaging 9.10 so far this season. Ahern commented on last week's play, stating, "our past two games we really improved. At the beginning of the week, we each set individual and team goals for the upcoming Centennial Conference season, and we definitely met most, if not all, of those this week." Ahern went on to comment on the differences of this year's team compared to last year's saying, "Our play as a team is much better and more refined than it has been previously, as we are converting more opportunities for kills, and not wasting possession as much."
Dickinson returns to play this Saturday, Sept. 27 at the Kline Center against Swarthmore in their second Centennial Conference matchup of the season,starting at 1:00 P.M.
Last season, the Red Devils dropped to Swarthmore College 3-0 in the face off, so the Dickinson volley ball team will certainly be out with vengeance on Saturday afternoon.