Tennis Drops Two To Blue Jays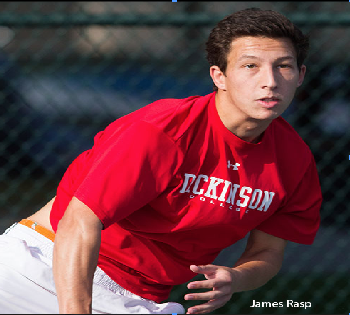 On Saturday, March 21, the men's and women's tennis teams suffered dual setbacks to nationally ranked squads from Johns Hopkins University. The women fell first on Friday, March 27 in a 9-0 decision, and the men dropped a 6-3 decision on Sunday, March 30.
The #2 ranked Blue Jay's came out strong against the women's team to sweep all nine matches. Sarah Cantor '15 fought hard for three games in the fourth singles flight, and paired up with first-year Stuart Lemay to win three games in the second flight of doubles. Emily Sprague '15 performed well in the fifth flight, but fell 6-3, 6-3. Joana Nunes '16 secured two games in the top singles flight. The Red Devils slipped to 1-5 overall and 0-1 in the Centennial Conference.
The Dickinson men's tennis team was able to threaten the #10 nationally ranked Hopkins team by excelling in the doubles matches. The Red Devils came out to an early lead, winning 2 of the 3 doubles matches. The top flight of Clark Chapman '17 and Steven Kaplan performed exceptionally well in an 8-6 decision.
Josh Kaseff '15 and Evan Davis '16 secured the point for the Red Devils in the third fliht in an 8-4 victory. Chapman claimed the Red Devils third point of the afternoon with a singles victory in the third flight. The loss brings the men's team to 1-3 overall and 0-1 in the Centennial Conference. Hopkins is always one of the toughest opponents for the Red Devils, and the three victories bode well for upcoming success for Dickinson men's tennis.
Both the men's and women's teams return to action on Friday, April 3 when they play host to Ursinus College in a dual meet set to start at 3:30 P.M. at the Dickinson Tennis Courts.