Men's Basketball Tops Ursinus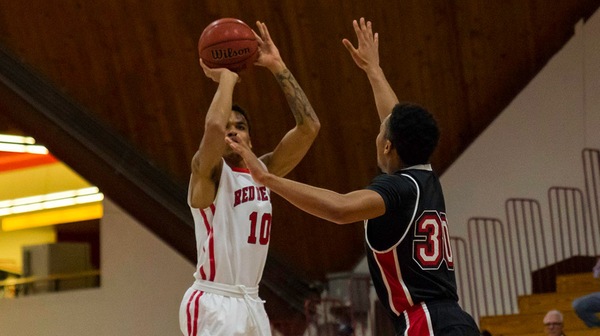 Hang on for a minute...we're trying to find some more stories you might like.
The Dickinson men's basketball team held off host Ursinus College late in the second half on Saturday, February 11, to earn another key Centennial Conference win as the Red Devils move into a second-place tie with Johns Hopkins at 11-5 in the conference. Swarthmore remains in the top spot with a 13-5 record while Ursinus slips into a fourth-place tie with Franklin & Marshall at 10-6.
The teams traded baskets in the early on with Justus Melton '18 giving the Red Devils a 12-9 lead with a three-pointer at with 14:35 until the half.
The Bears went on a run to pull in front by five. The Red Devils put together a string of three-pointers, with classmates Elijah Wright '19, Michael Jurzynski '19 and Harrison Brown '19 all hitting shots as Dickinson took a 22-19 lead with 10:12 left to play in the first period.
Wright and Bryce Allen '20 continued the scoring, with Allen stretching the margin to seven with a pair of free throws with 8:05 until halftime.
The Bears countered with another run, taking a one-point advantage before the Red Devils used three-pointers from Jurzynski and Mike Hinckley '19 to lead 46-42 at halftime.
Dickinson built the lead up to seven via another three-pointer and a free throw from Melton. The Red Devils managed to maintain their lead between three and five points for the better part of the second half.
Allen buried a three-pointer to give Dickinson a double-digit lead with just over six minutes to play, but the Bears put together one more rally to keep things close. They eventually managed to cut the Red Devils' lead to 1, 77-76, with just under two minutes to play.
Jurzynski came back with a three-pointer off an assist from Allen for an 80-76 advantage. The Bears tipped in an offensive rebound but Dickinson was able to hold on defense, denying the hosts in the final 40 seconds to claim the win, 80-78.
Wright scored a game-high 29 points, going 6-for-7 from the free throw line and hitting a trio of three-pointers, four rebounds, two assists and two steals. Jurzynski added 11 points while Melton and Moses Romocki '18 each scored eight points, combining for seven rebounds and seven assists. Allen tallied eight points and Brown netted seven while Hinckley finished with five points and three assists.
The Red Devils (14-9, 11-5 CC) are set to close out the regular season with a pair of home games, hosting Franklin & Marshall at 8:00 pm on Wednesday, February 15 and Washington College on Saturday, February 18 at 4 p.m.