Softball Drops Two Against McDaniel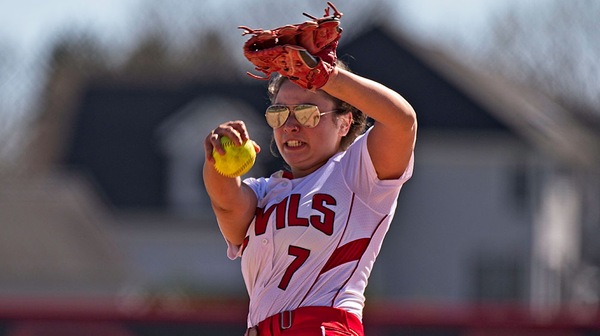 Hang on for a minute...we're trying to find some more stories you might like.
The Dickinson softball team dropped a pair of close games at McDaniel College on Sunday afternoon, April 23. The Red Devils suffered a heartbreaker early on, dropping the opener, 3-1, on a two-run homer in the eighth inning and let in three late runs to suffer a 3-0 setback in game two.
The Red Devils battled through six scoreless innings in game one before putting a run on the board in the top of the seventh inning of game one as Killian Kueny '19 singled and came home on an RBI double from Alicia Lane '18 but the Green Terror answered in the bottom to pull even and force the extra innings.
McDaniel put a runner on in the bottom of the eighth thanks to a two-out error. That set the stage for a two-run homer by Olivia Kipe to give the Green Terror the win.
Madison Milaszewski '19 pitched a solid game for the Red Devils, allowing just five hits and one earned run.
Jamie Weisser scattered three hits and struck out six before Fiona Johnson came on in the eighth to record the win for the Terror.
A pitching clinic in game two saw a combined six hits from both teams. Emily Rosenberg '18 allowed just two while Milaszewski surrendered only one.
Weisser drew a walk and stole second to set up an RBI opportunity for Scardinia in the fifth, who delivered with an RBI single. Kipe and Weisser each added an RBI hit in the sixth for the final of 3-0.
The Red Devils slip to 9-23 overall and 5-9 in the Centennial Conference. They return home to face Elizabethtown in a doubleheader on Thursday, April 27, with the first pitch scheduled for 5 p.m.