Women's Track Third at Gettysburg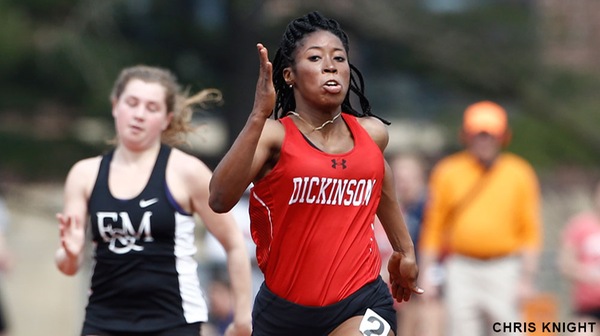 Hang on for a minute...we're trying to find some more stories you might like.
The Dickinson women's track & field team earned a third-place finish at the Mason-Dixon Invitational at Gettysburg College on Saturday, April 22.
Aphnie Germain '17 turned in another stellar performance, winning the 100 and 200 meter events with times of 12.61 and 26.39, respectively. She also led off the winning 4×100 relay while Naji Thompson '19 ran the anchor leg and finished second in the 100 meter race.
Nicole Fondots '20 and Imani Beard '17 completed the 4×100 relay, which totaled a time of 50.81.
Germain and Thompson ran the third and fourth legs of the 4×400 relay, joining Jamie George '17 and Natalie Suess '20 to finish fourth.
George ran to a second place finish in the mile with Molly Conrad '20 running to third. McKenna Spaulding '20 and Olivia Watson '19 added top-10 performances in the mile, crossing the line sixth and seventh.
Hannah Gore '18 won the 800 meters, clocking a time of 2:20.67, while classmate Caitlin Farrell '18 came in third.
Amanda Jimcosky '17 won the high jump with a height of 1.57m and placed second in the long jump while Beard took home third in the long jump and eighth in the high jump events.
The Red Devils had a dominant showing in the 5,000 meters, claiming the second, third, fourth and fifth finishing spots. Adriana Frayne-Reixa '17 led the way Dickinson, followed by Maura Reilly '19, Erin Harten '19 and Julia Snyder '20.
Liana Tabtiang '20 finished fourth and sixth in the 200 and 400 meters while Sophie Moore '17 and Lauren Suess '20 finished sixth and seventh in the 400 meter hurdles, respectively.
Emma Batchelder '17 and Kellyn Madden '19 finished seventh and eighth in the steeplechase, respectively.