Field Hockey's Flawless Start to the Season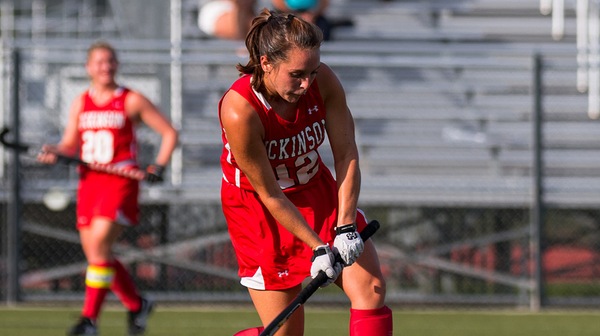 The Dickinson field hockey team started their season 2-0, topping Frostburg State University, 4-0, on Friday, September 1 and holding off visiting Bridgewater College, 2-1, on Saturday afternoon, September 2.
The newest batch of players worked well with the veterans as first-year Emily Mycek '21 put the Red Devils on the board against Frostburg by finishing an assist from senior Alex Bonser '18, 22 minutes into the first half.
Classmates Amber Dey '18 and Lily Mott '18 each tallied an unassisted goal to stretch the lead to 3-0 in the second half.
Bonser added her second point of the day, putting a shot into the upper corner of the cage to tally the game's final goal with just over five minutes remaining.
The Red Devils outshot the Bobcats 26-7 and won the penalty battle, 6-2. Goalkeeper Nicole Leighty '18 made 26 saves on the day while Freddie Bancroft '18 recorded four saves to seal the shutout.
Against Bridgewater, Emma Godfrey '21 put Dickinson up 1-0, scoring in the 17th minute as the Devils countered on a defensive penalty corner.
Defender Emily Mycek '21 found the back of the cage on an assist from Chelsea Kramer '19 with just over six minutes left to play in the first half.
Mycek turned in a solidperformance on the defensive end of the field as well, joining Kim Monteferante '18 and Delaney Ahn '20 in front of Bancroft in defense of the Red Devils' end of the field.
Bridgewater's Emily Matisons brought Dickinson's lead to just one score with a just over 14 minutes to play in regulation. Bancroft saved two potential goals in the remaining time to secure the win for the Red Devils.
The Red Devils held a 17-3 advantage in shots and tallied 11 penalty corners on the day while allowing just two on the defensive end.
Bridgewater falls to 0-2 to start the season. The Red Devils have since travelled to York College on Wednesday night, September 6 to face the Spartans at 6:00 p.m.