Women's Soccer Gets Off to Fast Start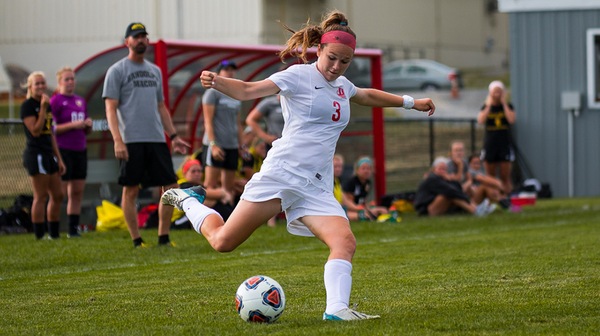 Hang on for a minute...we're trying to find some more stories you might like.
The Dickinson women's soccer team opened their 2017 season with a 2-0 record, notching a win over visiting Alvernia University on Friday afternoon, September 1 and taking home the victory in an overtime thriller at Randolph-Macon College on Sunday, September 3.
Against Alvernia, the Red Devils scored the match's only two goals in the first 45 minutes, netting them in a span of just under five minutes. Caitlin Gugliotta '20 put Dickinson on the board in the 23rd minute off of an assist from classmate Sienna Zittle '20.
Killian Donohue '19 gave Dickinson a 2-0 lead, capitalizing on a corner kick with 17 minutes left in the half.
Dickinson held a 9-3 lead in shots at the end of the half and out shot Alvernia, 7-0 in the second period. The Red Devils kept up the pressure on offense but five saves by Alvernia goaltender Jess Plunkett held the score at 2-0.
The Red Devils tallied five corner kicks in each half and allowed none from the visitors. Alvernia only managed two shots on goal during the match, and goaltender Mary Katherine Brosnan '19 turned away both to record the shutout.
Defense was the name of the game against Randolph-Macon, as both teams combined for only five shots in the first half. The Red Devils held a slight 6-5 advantage in and a 4-1 lead in corners when the second period of regulation came to a close, but the score remained 0-0.
Dickinson made the most of a corner in the first overtime period as Olivia Termini '19 redirected a header into the net off a serve from classmate Killian Donohue '19.
Christina Newman made four saves in the net for the Yellow Jackets as they slip to 0-1-1 on the season. Brosnan made four saves for the Red Devils, earning the shutout as they improve to 2-0.
The Red Devils return home to face the University of Pittsburgh-Bradford on Wednesday, September 6 at 4:00 pm at Miller Memorial Field.