Field Hockey Off to 3-1 Start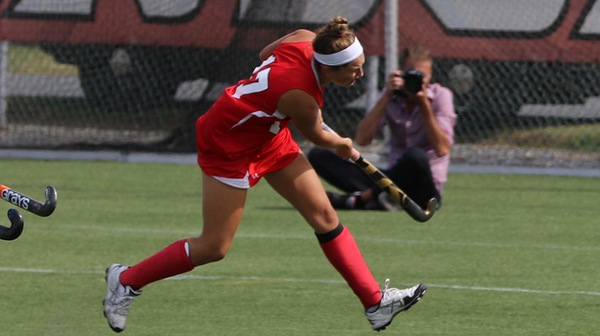 Starting their preseason on August 20th, a week before school started, has paid off for the Red Devils field hockey team as they have started their season of with a 3-1 record as of September 11, 2017.
With the extra training, long practices, and grueling workouts, the team has begun to establish their strength early on. Leadership alongside great coaching provided through the program has forged a team that will be hard to contend with in the Centennial Conference.
At the same point last season, the team had earned a 2-2 record, which they have already surpassed this year. This can be partly attributed to the strong freshman class that will be coming up through the ranks.
On Saturday, September 9 versus Bridgewater College, thanks to the scoring capabilities of Emma Godfrey '21 and Emily Mycek  '21, Dickinson was able to come out with a 2-0 win. Their strength has not faltered as they have continued on with other games that came afterword.  Alongside the first-year students is a strong group of upper-class students that take the field at the start of each of two 25-minute halves. The unity and teamwork between these two groups of players has helped to bring the team victory multiple times this season. According to team manager Kim Le '21, "The team is extremely loving towards each other and has a strong passion for the game. In result, there is a strong team bond on and off the field."
The bond that has been created has been what has pushed the team in the direction of success. It produces overwhelming teamwork and communication, making it easier to work the ball down the field and score. Field hockey is a game about working together, with eleven players on the field at almost all times, a point is scored with eleven minds and bodies working for the same purpose, that is, getting the ball past the goalie. With the team's strong start to 2017, we look forward to cheering Dickinson Field Hockey on as they face Shenandoah this week as well as throughout the rest of their season.