Field Hockey Keeps Finding Ways to Win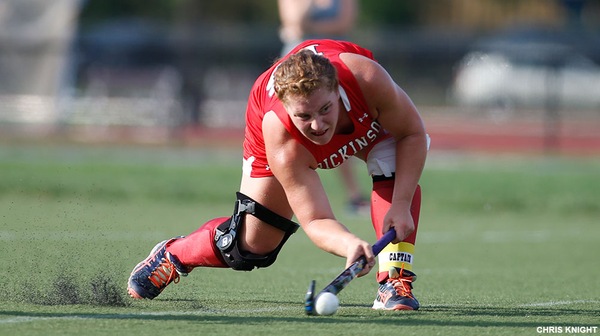 Another week brings about another set of victories for the Red Devils. Field Hockey has brought in two more wins, coming against Shenandoah University on Tuesday, September 12 and Swarthmore College on Saturday, September 16.
Shenandoah was the first success that the women could bring home. A 2-0 win was an easy task thanks to goaltender Freddie Bancroft '19. She was able to make 4 saves, putting up a strong shut out.It has been easy for the Red Devils to continue their success thanks to their strong goalie play and near-impenetrable defense. Chelsea Kramer '19 scored both of the game's goals, one in each half, with Amber Dey '18 assisting on the second.
A few days later the team was able to pull out a 1 – 0 victory versus Swarthmore College.  Emily Mycek '21 scored the winning shot.midway through the first half. with Kramer assisting The team is stream rolling through their season stronger than ever.  The early success of the team is looking to forecast the rest of the season, with copious wins determined by the way that the girls will play.
The Red Devils currently hold a 5-1 overall record and a 1-0 record in the Centennial Conference.  So far this season they have scored 13 total goals, averaging 2.2 per game and only allowing .65 goals per game, along with posting four shutouts so far this season. They are also on a three-game winning streak.
Dickinson looks to face Franklin & Marshall this Wednesday, September 20th, at home,.We wish them luck and hope they are able to bring home another victory and get some payback for last year's loss.