Women's Soccer Tops Washington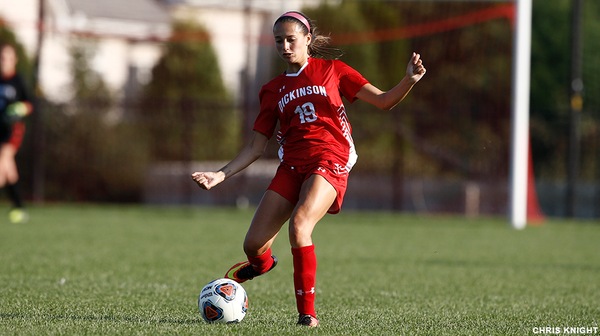 Women's Soccer played an eventful game this homecoming weekend against Washington College at home as they raised money for Pediatric Cancer awareness on Saturday, October 7th.
Washington came out of the gates strong, scoring in the first half, making the score 1-0 with the Red Devils trailing behind at halftime.
Coming into the second half, the Red Devils were revitalized and raring to go. They had brought their teamwork and excitement onto the field. Just a few minutes after the break, Tara Dedrickson '21 scored a goal to bring tie the game at one goal apiece.
Following in the same path of scoring and excitement, Ally Diaz '21 pulled the Devils into the lead with her first goal of the season, with an assist from Briona Davis '19.
To keep the momentum going, Samantha Knapp '19 put the match's third and final goal into the net. When 3-1 became the score, Dickinson began to feel confidence in their victory.
With the strong sense of surety in their positioning the team finished the game strong and held the Shorewomen down, not allowing a goal in the second half as goalkeeper Mary Katherine Brosnan '21 posted a shut out in the final 45 minutes, guaranteeing the Red Devil's success.
When time finally ran out at the end of the second half, Dickinson was victorious by a final score of 3-1. The Red Devils improve their overall record to 8-4-1 so far on the season.
As the team travels to Bryn Mawr this Wednesday, October 11, we will wish the team luck with the hope that they will carry their momentum from the previous game into this one when they tip off at 4:00pm.