Field Hockey Suffers Loss on Senior Day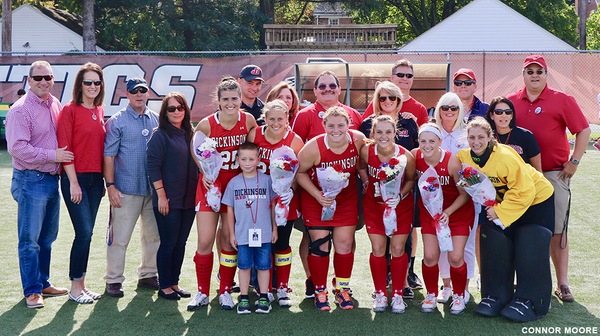 The Dickinson field hockey team played to the best of their ability over a two-game stretch last week. Facing Juniata on Wednesday, October 18 and Haverford on Saturday, October 21, both at home on Biddle Field.
Juniata was the first game of the week. The Red Devils got off to a fast start early-on, putting Dickinson on the board via a goal from Amber Dey '18 with the help of Marie Laverdiere '21 on a penalty corner. This score spurred the Red Devils on and they maintained their lead going into halftime. After a back-and-forth second half the score was tied at 2 when time expired in regulation, leading to overtime.
Going into overtime the Red Devils were motivated to finish the game with the lead they started with. As the time slipped away Juniata received a yellow card, giving Dickinson an advantage that they made full use of. Within the time of the penalty, Dey, with 4:26 left in overtime scored the game winning goal, her second of the game, lifting the Red Devils to a 3-2 win over the Eagles.
Just two days later Dickinson played host to Haverford on Senior Day. With the excitement of the day in all the players they set out to put forward their best effort for the win. Unfortunately, Haverford had an incredibly strong showing and scored two goals before the Red Devils had a chance to answer. Chelsea Kramer '19 closed the gap to 2-1 before the half ended. Trying to pull the score back into their favor, Dickinson did everything they could after Haverford pulled the game to 3-1. Kramer tightened the score to 3-2 before the game ended. The girls were not able to bring in a win for their Senior Day but they filled the time before and after with many special moments to honor the seniors and everything they have done for the team over the past four seasons. They will be greatly missed in the season to come.
The Red Devils' record moves to 8-7 overall and 3-5 in the Centennial Conference as they travel to Gettysburg this Friday, October 27 at 3:30pm for their last regular season game.